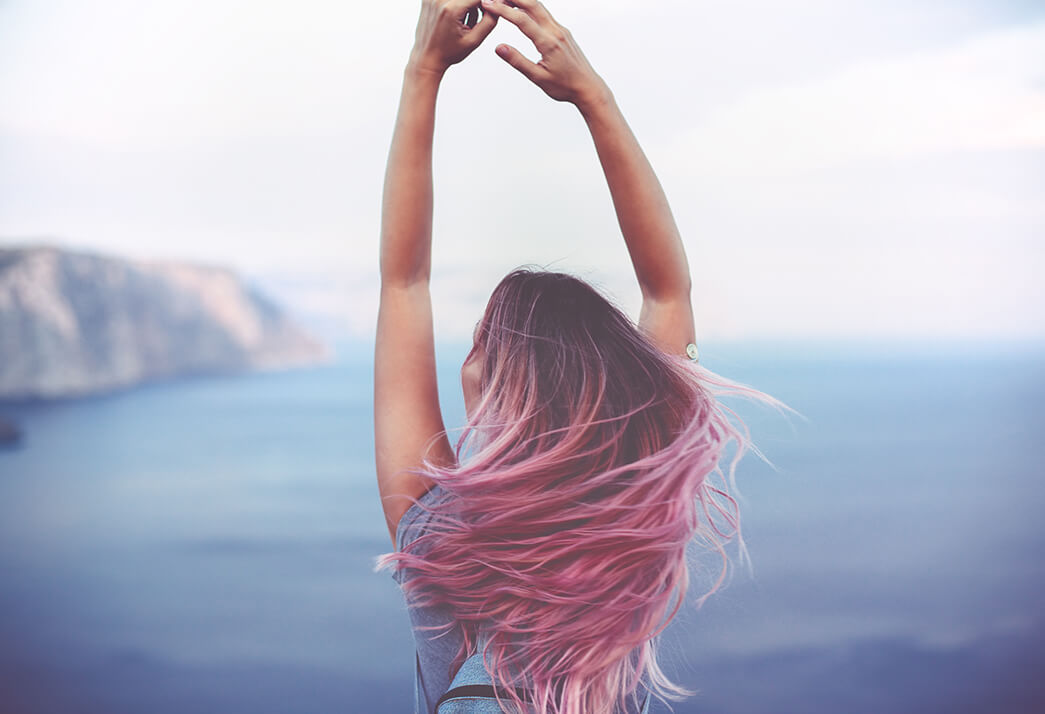 How to Restore Color Damaged Hair Back to Healthy
A fresh color job makes hair look brilliant and revitalized. And it's certainly hard to beat that post-color softness. But anyone who dyes their hair regularly knows that getting your color on causes damage in the long run. Here's how to keep your mane looking its best without giving up your beloved salon appointments.
Whether you enhance your natural color slightly, randomly add a bit of whimsy to your locks, or cover your greys on the reg (in which case you'd probably forgo coffee, sleep, and exercise to keep your scheduled appointment), you likely end up with some damage to your hair. What begins as silky smooth strands, turns to sapped, straw-like, hay hair in seemingly no time
You don't have to forgo your color job to keep your tresses looking their best. Here's the lowdown on bringing your mane back from the brink of coloring disaster.
How to Repair Color Damaged Hair
First, and this probably goes without saying, give it a break. No need to quit coloring altogether, but if you are a regularly color-er try going as long as possible between dye jobs. This is not only easier on your hair, but your pocketbook too.
If you are keeping your hair a brilliant shade of blond or hiding greys, you are probably hitting up the salon every 4-6 weeks. Going into your appointment with healthy hair is the best starting point to avoiding damage. Remember, dry hair breaks more easily and is more prone to splits and hair loss. Get your moisture on by using the appropriate products for your hair type.
Still using the same shampoo and conditioner you were using a decade ago? It may be time to switch things up. Yes, products designed for color treated hair truly are worth the money and effort. Sulfate-free, Paraben Free, and Phthalate Free hair care help keep color from fading and are better health-wise too.
Enlist the help of a rich conditioner for dry hair to make sure your hair is getting the moisture it needs. This will keep strands soft and supple, and makes wet hair easier to comb and less prone to breakage.
Why the ST. TROPICA Beach Goddess Hot Oil Hair Mask is the Solution to Color Damaged Hair
Hydration is the name of the game in maintaining healthy color treated hair. And treatments are big time supporting players in your hair care arsenal. ST. TROPICA Coconut Oil Hair Mask is comprised of ingredients specifically chosen to keep hair looking and feeling its best. It's almost like it's made to repair damaged hair.
That's because it is!
Conventional hair masks coat strands and end up drying them out further – something we like to call artificial shine. Coconut oil penetrates the hair shaft, moisturizing from the inside out. Plus, it's 100% Organic and good for the scalp too.
We also use Green tea to strengthen hair and mend split ends, and Biotin to increase elasticity and prevent breakage. Amla is perfect for dry hair, rich in fatty acids to strengthen hair follicles and make hair feel ultra-soft. Hibiscus diminishes hair fall and Horsetail repairs damaged hair tissue due to frequent coloring, leaving hair looking revitalized and healthy.
The best way to keep your hair and color in optimal shape is to start with hair that is in good condition. Be sure to use our hair mask 1-2 days before getting your hair colored and continue to mask regularly (at least once weekly) to maintain color, shine, volume, and elasticity.
Warm up the hair mask, massage it onto scalp and work through strands, put your feet up and enjoy the next 30 minutes with a good book or your favorite Netflix series. You can have your hair color and keep it healthy too, and your new hair mask ritual will become self-care time you want to keep as much as that next salon appointment.
 Recommended Products: