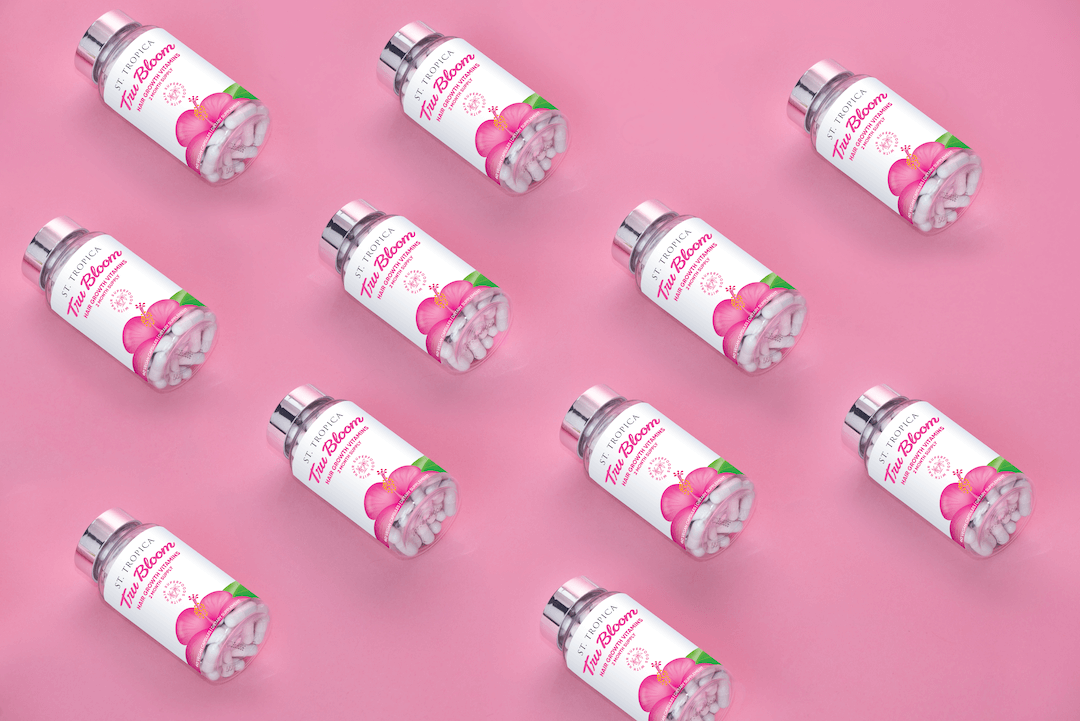 The Important Difference Between Gummy Vitamins and Capsule Vitamins for Hair Growth
Remember when gummy vitamins were just for kids? Well, now adults can choose from gummy and capsule vitamins for just about anything, including vitamins for hair growth. Sure, we all have a sweet tooth sometimes. But it's important to know the differences between capsule vitamins and gummy vitamins to ensure you are getting the best supplements for your hair and your body overall.
Are Gummy Vitamins Bad for You?
From being packed with sugar to offering little in the way of benefits, gummy vitamins have come into question for their effectiveness. While the chewy fruit-flavored vitamins might be fun to eat, what's the point if they aren't offering you the benefits you are after. Or worse, might cause unwanted side effects.
Many gummy vitamins for hair growth on the market are high in sugar. One popular hair growth gummy vitamin lists evaporated cane juice and tapioca syrup as the first two ingredients on the ingredient listing. These listings show which ingredients a product is made from most to least, so this means this particular vitamin is made up mostly of sugar. Not exactly what you are looking for in a hair growth vitamin.
Even if you read the label of a gummy vitamin and see little to no added sugar, these pesky ingredients could still be lurking inside under the guise of carbohydrates. Sugar alcohols are used to avoid the appearance of added sugars in some gummy vitamins and hide under terms like "Total Carbohydrates" on ingredient listings. Even gummy vitamins that are "sugar-free" can contain sugar alcohols. Sugar alcohols can cause digestive disruption in some people, according to research published in the European Journal of Clinical Nutrition.
Not only is sugar unnecessary in a hair growth supplement, but it can also lead to unwanted health issues. You've long been told sugar can cause cavities, but a report published by Harvard Health states that consuming too much sugar has links to heart issues. 
While you can't avoid sugar completely (and who would want to?), choosing vitamins without added sugar is a good place to eliminate unnecessary amounts of the sweet stuff in your diet.
Because gummy vitamins are designed to taste good and look palatable, they also often include artificial flavorings and colorants. Many food dyes are synthetic ingredients derived from coal tar and petroleum and could have adverse health effects, according to a study published in the International Journal of Occupational and Environmental Health.
And top it all off, those gummies might now even have the amount of vitamins and nutrients the label may lead you to believe. As stated by Scripps, gummy vitamins aren't regulated by the Food and Drug Administration (FDA), so the amount of nutrients in the gummy may not actually match what is stated on the label. Plus, because gummies contain all of the added sugars, flavorings, colorants, and other fillers, there often isn't enough room to add the vitamins you are buying the product for in the first place.
Capsule vitamins are a better option if you are after real benefits rather than something that simply tastes good. The main reason for producing capsule vitamins is for the nutrients it contains, not the color or flavor of the product. And the ingredients used to make capsule vitamins are more stable and potent than those in a gummy vitamin.
What are the Best Vitamins for Hair Growth?
When purchasing hair growth vitamins, the main thing to consider is the effectiveness and purity of the ingredients in the product. We went to painstaking lengths when developing ST. TROPICA Hair Growth Vitamins exclusive formula. Choosing the best ingredients for your hair and sourcing them to be ultra-pure and effective. We combine essential hair nutrients with our one-of-a-kind Hair Superfoods blend to deliver the results of your dreams in just one capsule a day. Don't like taking capsule? Simply add the contents of one Hair Growth Vitamin to your morning smoothie or favorite beverage.

Get the most bang for your buck (and your health!) with high-quality Hair Growth Vitamins. Who needs added sugar in a supplement? Save that for a delicious piece of chocolate or your favorite ice cream