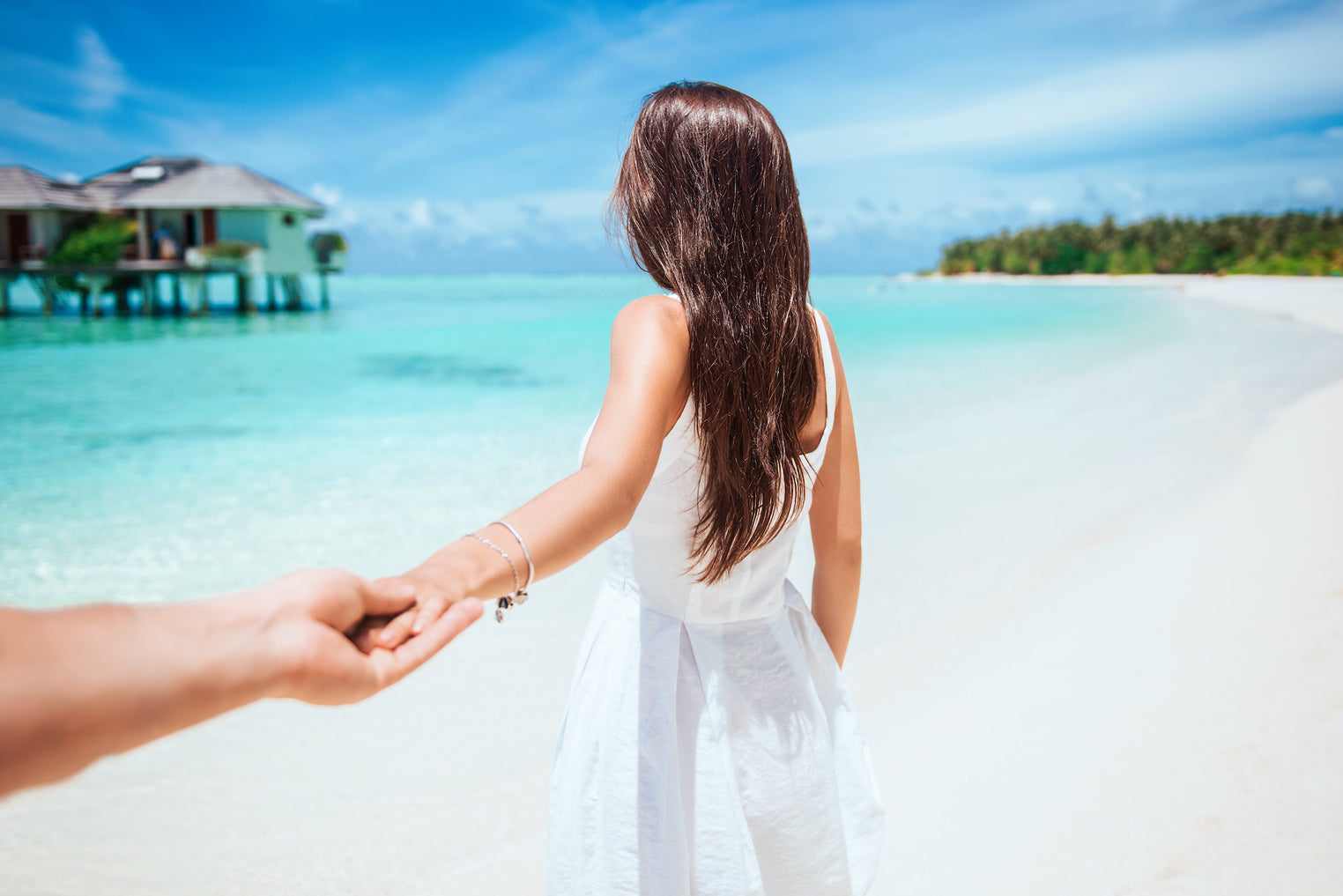 3 Hair Care Tips You Absolutely Need to Add to Your Summer Hair Care Routine
Flowy waves, golden highlights, and breezy up 'dos are all mainstays of summer hair. Start using our summer hair care tips now to make sure your locks are looking their best for the season.
3 Hair Care Tips for Summer To Start Today
Your Summer Hair Care Product Line-Up
First, let's talk products. Whether you are going in for a fresh set of highlights or simply desire beach waves that look amazing, your hair has to be healthy. Winter saps strands of moisture, but summer brings a different type of dryness to hair. Time spent under the sun, in the pool, or near the ocean can make locks feel dry and damaged. 
Proper moisturization is key to keeping your hair feeling moisturized, protected, and strong. Use a weekly (at least!) hair formula – ST. TROPICA
Beach Goddess Hot Oil Hair Mask
is perfect! This will ensure you are keeping strands in tip-top shape from the inside out.
Hair care in summer should center around hydration. So, over-deliver on moisturizing ingredients.
Luscious Locks Leave-In Conditioner
is an essential piece to your summer hair care routine. Spray onto wet hair after washing or swimming to detangle and nourish hair. Spritz onto dry locks for a hit of softness and shine. Use it as hair scent for a juicy tropical aroma.
Your Summer Hair Care Tools
When combing through wet hair, whether at home or poolside, use a wide-tooth comb, a healthy spritz of leave-in, and detangle carefully. This will prevent wet, vulnerable strands from snapping and causing split ends and frizziness.
Up 'dos are an absolute must for summer. They're a quick and easy way to style your hair and help to keep you feeling cool. When pulling hair back, be sure to use soft elastics that won't break or damage hair. Headbands and cute clips are other fun accessories for summer.
Your Summer Hair Care Diet
Another way to get summer-ready hair is to get the good stuff inside too. Stock up on
healthy hair foods
and make them part of your daily summer hair care routine.
Are you giving your body hair superfoods? The most convenient way to do this is by taking our Tru Bloom Hair Growth Vitamins. Just one per day equals fabulously gorgeous locks. See what our customers have to say about
Tru Bloom
.
Setting up a plan now for your hair care in summer will keep your hair feeling healthy and vital through the hotter months. Now go take some time off to enjoy the sunshine!