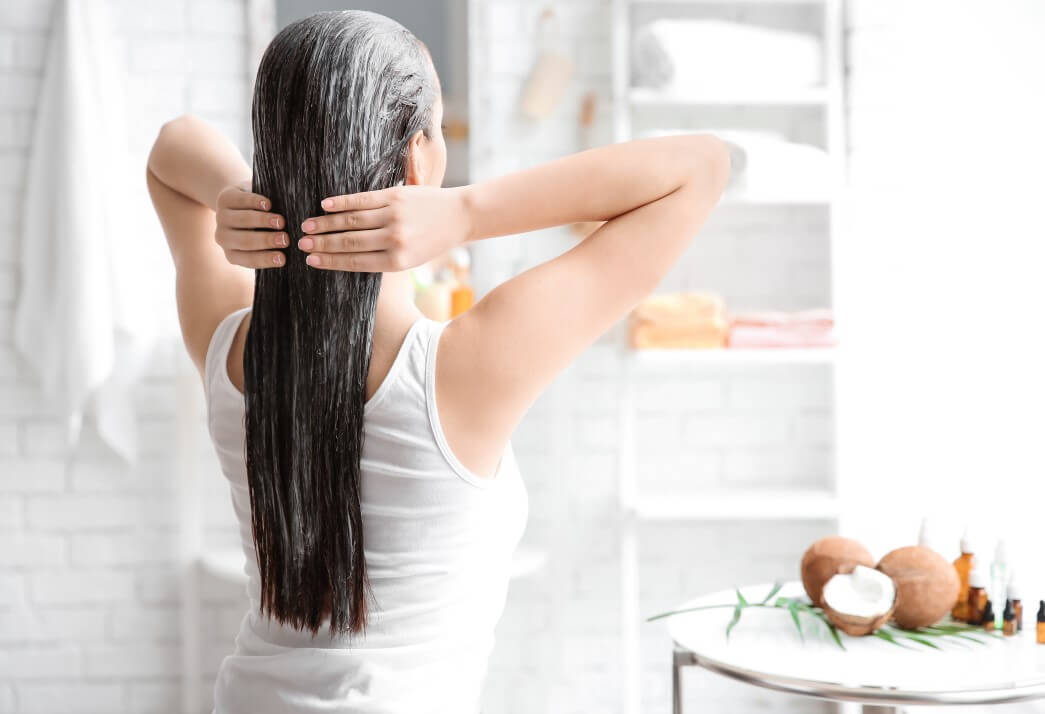 How to Wash Coconut Oil Out of Your Hair
Coconut oil is a hair care superstar. It has the ability to make hair look and feel strong, thick, glossy, and healthy while reversing damage from the inside out.
While there is little doubt as to the effectiveness of this ingredient, there is one concern that weighs heavily on the minds of some natural hair care lovers. Will coconut oil wash out of hair without leaving locks greasy, limp, or heavy?
At ST. TROPICA, we not only want to provide you with the best possible natural ingredients for your hair but wish to supply answers to any questions you may have. So, we got to the bottom of this query with good, old fashioned research, and even tested how the most popular natural shampoos work when washing coconut oil out of hair.
No One Left Behind
The vast majority of our hair mask users experience stellar results, and we couldn't be happier about that. But it was the few (less than 1%) of our customers who reported that our mask didn't wash out of their hair properly, leaving hair greasy and heavy, that left us perplexed.
Wanting to figure out why certain people seemed to have trouble getting hair clean and wanting to ward off further possible issues, we did some investigating. Was it because of hair type? Maybe hard or soft water was to blame? Could it be due to the season or climate? Perhaps it was because of the user's diet or hydration level?
After much research, we believe we found the culprit. Shampoo. 
Our usual test subjects (our own small team) were put to the test, and several shampoo brands, both conventional and natural, were tried out on a variety of hair types. We used the ST. TROPICA Coconut Oil Hair Mask as directed, shampooing twice to remove the mask.
The Results are In
The results? Every conventional shampoo we tested, including baby shampoo, completely and effectively washed out the coconut oil hair mask.
We know what you are thinking. You use our 100% Organic hair mask to avoid toxic hair care ingredients. Now you have to use a conventional, toxin-laden shampoo to remove the mask?
Here's the best news. Almost all of the natural and organic shampoos we tested also effectively washed out our coconut oil-based hair mask. Only a few were unable to completely wash away the hair mask. We believe these few were less effective because they contain less active cleansers and simply have less cleansing ability.
| | | |
| --- | --- | --- |
| CONVENTIONAL SHAMPOOS |   |   |
| BRAND | WORKS* | DOESN'T WORK** |
| Conventional Shampoos (ALL) |      YES |             -- |
| | | |
| --- | --- | --- |
| NATURAL/ORGANIC SHAMPOOS |   |   |
| BRAND | WORKS* | DOESN'T WORK** |
| Acure Organics | YES |   |
| Alba Botanicals | YES |   |
| Avalon Organics | YES |   |
| Andalou Naturals | YES |   |
| Burt's Bees |   | NO |
| Carina Organics | YES |   |
| Desert Essence | YES |   |
| Henna Color Labs |   | NO |
| Jason | YES |   |
| John Masters Organics | YES |   |
| Phia Lab |   | NO |
| Puracy | YES |   |
| Rahua | YES |   |
| RawOrganics | YES |   |
| Whole Foods 365 | YES |   |
| Yarok | YES |   |
A Note to Those With Thin / Fine Hair:
The group who voice the most concern over coconut oil weighing hair down and leaving it feeling greasy are those with fine and thin hair types. This is understandable, as many oils are too heavy for these hair types, leaving locks a limp, greasy mess. Coconut oil is lightweight, making it suitable for the most delicate tresses. Using the oil on hair quells dryness and frizz, and actually boosts the appearance of thickness and volume.
Not only will using coconut oil help to keep hair looking healthy, but we also use other beautiful hair ingredients to reduce hair fall, bolster hair growth, and keep your mane looking shiny, full, and gorgeous.
Organic Green Tea helps to strengthen hair and reduce split ends, Organic Biotin boosts shine, Organic Hibiscus is perfect for those with thin hair, Organic Amla is added to keep hair soft and supple, and Organic Horsetail repairs damage for your healthiest hair.
Cassandra Ferguson shares her real-life experience with using ST. TROPICA Coconut Oil Hair Mask. "I thought the oil would not wash out of my hair and I thought it would actually weigh it down since I have such naturally thin hair. It actually did the opposite. My hair was thicker, extremely brush-able, shiny, less brittle, and eliminated frizz completely," she said.
Help Us Help You!
We will continue to test new shampoos on effectiveness at washing out our coconut oil hair mask. If you have used a natural shampoo not on our list to wash coconut oil out of your hair, we'd love to know!
Recommended Products: