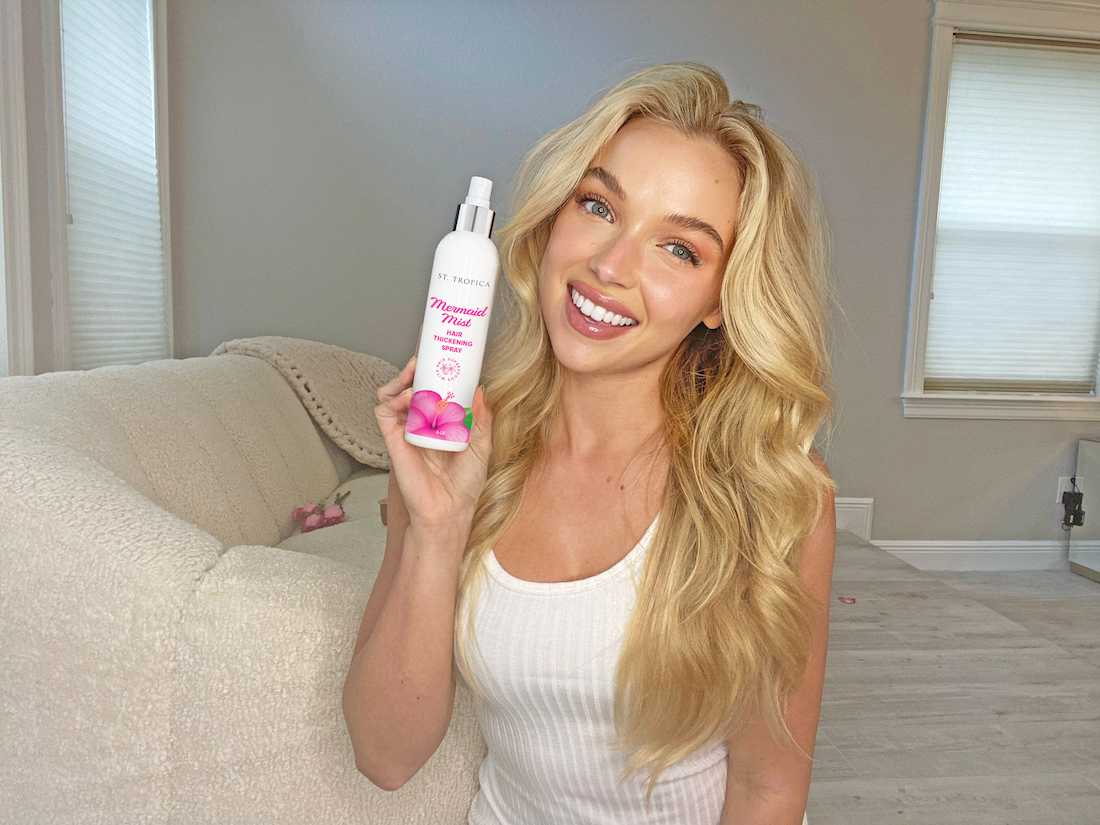 How to Achieve Voluminous Hair
Voluminous and thick-looking hair from the 90s has been making a major comeback - and we love it. But as much as we love voluminous-looking hair, we also know how difficult it can be to achieve thick looking locks and volume in your hair. That's why today we are sharing our top tips for achieving voluminous locks!
The Quick Fix: Try A Hair Thickening Spray
Our Mermaid Mist Hair Thickening Spray is designed to add serious volume to your hair - from root to tip. Formulated with ingredients such as Himalayan Pink Salt, Sea Kelp Extract, Green Tea Leaf Extract, Hibiscus Flower Extract, Amla Fruit Extract, & Bhringraj Extract, the Mermaid Mist adds dreamy texture and fullness to the hair so that you can enjoy more voluminous-looking locks with just a few sprays.
You can use the Mermaid Mist Hair Thickening Spray to add volume and enhance your natural texture by spraying it into damp hair and then allowing it to air dry, or you can add it to damp hair before styling to create your own custom look. If you just want to add volume to your roots, then you can also just focus this product on your root section and allow it to either air dry or blow dry to enjoy a bit of extra volume.
The great thing about a hair thickening spray is that it can help you achieve thicker looking hair in minutes. It's what we like to call a "quick fix" for flat or thin looking hair. You simply spray it in (either just at the roots, or from root to tip) and style as usual to enjoy immediately thicker looking hair. Isn't that amazing?
Quick Fix: Blow Dry In The Opposite Direction
An easy way to add volume to your hair is by blow drying your roots in the opposite direction than it naturally lays. You can even flip your head over and blow dry the back of your hair downward to help lift the roots. We recommend spraying in the Mermaid Mist Hair Thickening Spray to add in extra lift and help it last for days.
Longer Term: Support Your Hair Growth
Thicker hair starts at the root and that means supporting your hair growth and taking care of your scalp is the ultimate way to support thicker-looking hair over time. Our Tru Bloom Hair Growth Vitamins contain essential hair nutrients and superfoods to support healthier hair growth from the inside-out.
By simply taking just one Tru Bloom Vitamins a day, you're providing your hair and scalp with necessary nutrients that will encourage new and faster hair growth - but don't take our word for it, check out our over 5,000 five star reviews! Hot oil hair treatments are another excellent way to improve your scalp health and support healthier hair growth for thicker hair. Our OG Beach Goddess Hot Oil Hair Mask is the ultimate scalp and hair treat.
We recommend applying it once weekly to improve the condition of your scalp and hair, and enjoy healthier hair growth.
Pro Tip: Level-up your hot oil treatment by gently massaging your scalp for 5 minutes once your mask has been applied. This will help stimulate hair growth.
Order the Tru Bloom Hair Growth Vitamins and Beach Goddess Hot Oil Hair Mask together in the ultimate scalp and hair growth set, The Duo Dream Team. They support your hair health by providing your body what it needs for healthier hair growth and also helping to balance the scalp and optimizing it for hair growth.
While hair and scalp improvement takes a bit more time to show results than a hair thickening spray, it will provide you with more voluminous and healthy feeling locks over time. And, just imagine using your Mermaid Mist Hair Thickening Spray on your extra-thick and healthy hair once you begin seeing results from your Tru Bloom Vitamins and Beach Goddess Hot Oil Hair Mask!