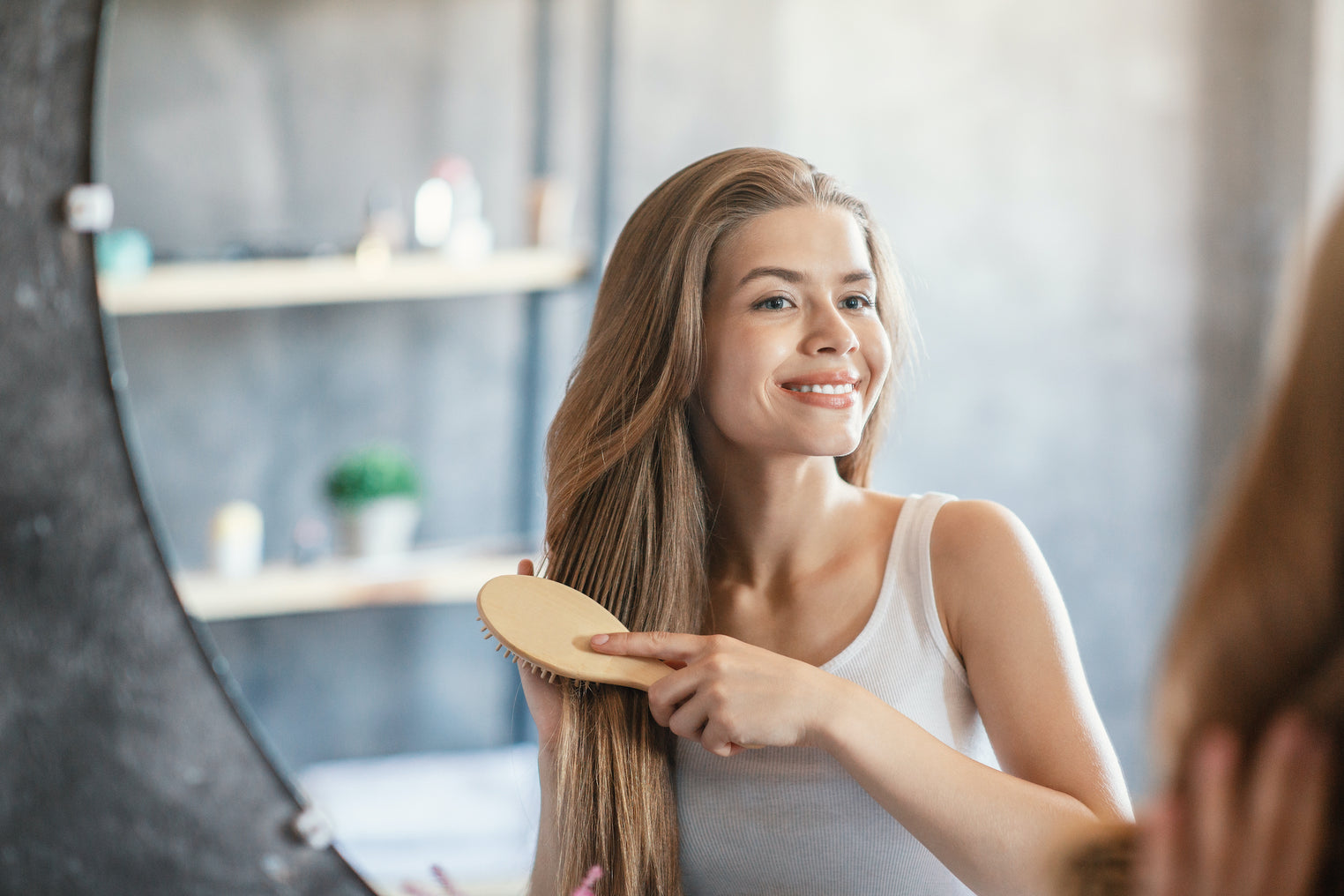 Maybe you've been blessed with a thick, full mane. Or maybe your hair is on the thinner side. Either way, there are days when all of us need to add some oomph to our locks. Here's how to get volume for hair that looks fabulous.
7 Tips On How to Get Volume for Hair That Looks Full and Lush
Change Your Part:
Ok, ok. Gen Z-ers may claim that anything other than a middle part dates you. But they will be missing out on the major volumizing effects of a side part. If you are looking for a fast and easy way to amp up the volume in your mane, embrace the side part and watch your 'do go from flat to fluffy in an instant. Why? Because the roots of the hair have become used to laying down. When you flip those strands to the other side, they stand up a bit more due to the change in direction. 
Blow Dry Upside Down:
A tried and true method to getting more volume in your hair is the upside down blow dry. Same as with switching your part, when strands are dried upside-down, roots tend to stick up straighter, giving the look of fuller hair. One lesser-known trick…this works on dry hair too to rev up the volume on second- or third-day hair.
Sleep With Hair in a Volume-Boosting Up 'Do:
To wake up to fluffy, voluminous hair, tie damp hair up in a bun before heading to bed. Using a soft elastic that won't break strands while you sleep, gather hair up onto crown of head and secure loosely. Let down in the morning and finger comb for full waves. If necessary, you can use a curling iron to define your waves.
Go for a Trim:
If your hair has gotten longer and you feel it has gone limp, it may be time for a trim. Snipping off ends that are weighing hair down can add new life to your look. It doesn't have to be a drastic change, a tiny trim can do wonders for adding volume.
More Bangs for Your Bucks:
Never thought of bangs as a volumizing technique? Because of the extra layers, bangs can help thicker hair to look fuller. Have fine or thin locks? Try side-swept bangs for more voluminous hair.
Deep Condition To Pump up Strands:
The absolute best way to keep hair looking full is to make sure it's healthy, conditioned, and moisturized. Use ST. TROPICA Beach Goddess Hot Oil Hair Mask twice weekly to ensure your hair is getting ultimate moisture and the Hair Superfoods it craves for lush locks.
Wash Less Often:
Think quelling the greasies with a daily shampoo will help to stave off limp locks? Dry hair tends to look flat and lifeless. Skipping a day or two between washing can add texture to strands and actually help to pump up the look of volume in hair. Use our tricks to washing your hair less often.