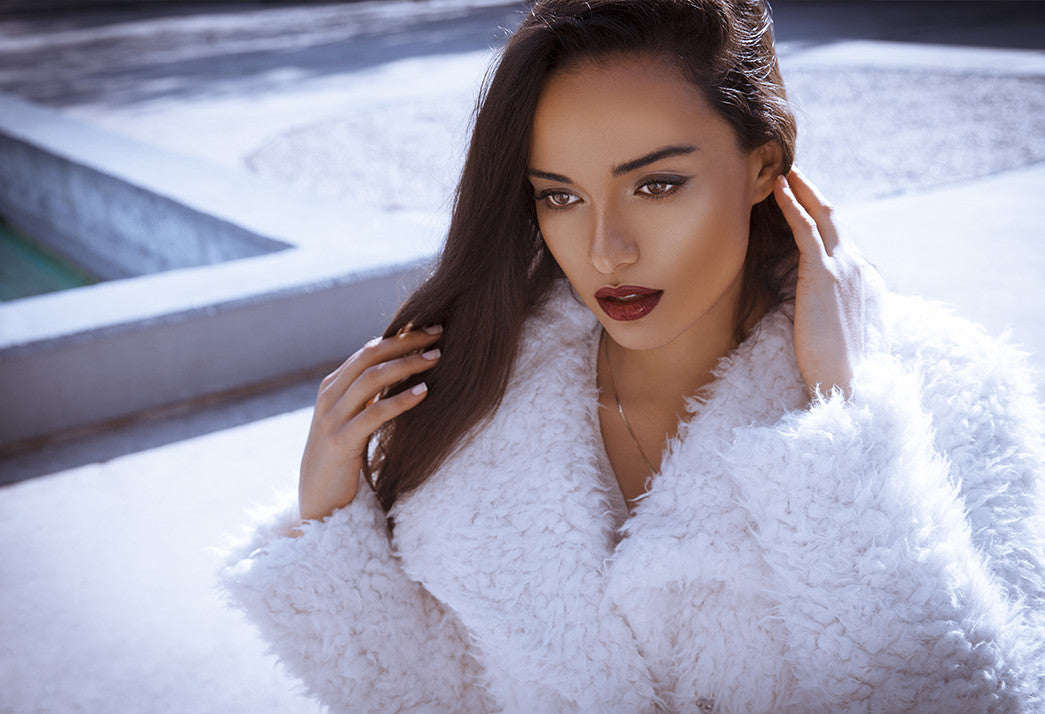 Making sure that you take care of your hair during the winter months is essential otherwise you could experience unwanted hair breakage and hair fall over the year. There are dozens of essential nutrients that healthy hair needs to stay lustrous and hydrated, the most important being fatty acids. Learning how you can sufficiently nourish your hair is the first step to knowing how to use natural hair care products to your best ability.
Best Natural Hair Care for Winter: Tips & Tricks! 
Coconut Oil

Coconut oil for hair is one of the best hair treatments that you can do as it replenishes lost moisture and protects your locks from any damaging elements such as the wind and the cold.
The coconut oil hair phenomenon is something that has taken the beauty community by storm over the past couple of years, though it has been used historically for decades if not centuries, in other parts of the world. You can find coconut oil in natural health food stores, supermarkets, and more.
In fact, many beauty companies have also created their own version of this natural hydrator, in the form of specialty hair care products.
Hot Oil Treatments

If you are into beauty care there's a good chance you're aware of the benefits of a hot oil treatment. Historically, you would place a small tube or ampule into a bowl of hot water and allow the oil to heat up before applying it from your scalp down to your roots.
Looking back, it is quite surprising that, at a bare minimum, the "tube" one submerses into hot water, does not have so much as a simple string attached to it (In the spirit of a tea bag) to avoid burning your fingers/hands -should the hot water "bath" be too hot!  The purpose of the heat is to make the formula penetrate the hair shafts fully & much faster. 
The main purpose of this type of hair treatment is to ensure that your hair is getting the right nutrients that your scalp normally supplies. It is essentially a second source of vitamins and minerals.
Hair Masks

Hair masks are one of the most popular types of modern hair treatments that you can use - not only in the wintertime but year-round. The ST. TROPICA hair mask is widely regarded as being perhaps the single best hair mask that you can use, to not only nourish & moisturize your hair, but your scalp as well.
The Beach Goddess Hot Oil Hair Mask is an organic hair mask, using coconut oil as its primary ingredient, which is then infused with numerous hair vitamins & nutrients, making for an intense but natural formula.  It helps to promote a healthy scalp that you can rely on to provide the right oils to each of your roots so your hair can grow shiny, long, and strong. Many professionals in the beauty industry use this dry hair treatment to repair existing damage to their clients' hair, and to ensure an optimum protective layer on the hair (known as the hair cuticle) without weighing the hair down. 
As an added bonus, it is much safer to use, as it comes in a special BPA-Free tube, which SAFELY heats up in hot water: it stands upright in a mug, so your fingers never touch the hot water bath.  It can also be heated safely in a microwave in about 30 seconds flat. *Remove cap prior to heating.
After your first use, you'll see stronger, revitalized, healthier hair with a brilliant shine – regardless of how cold it might get outside. Preparing your locks for the upcoming winter season is essential for both women and men around the world. 
These natural hair products are highly recommended as they definitely help "level the playing field" when it comes to achieving healthy hair in challenging and often harsh winter climates.
Recommended Products: