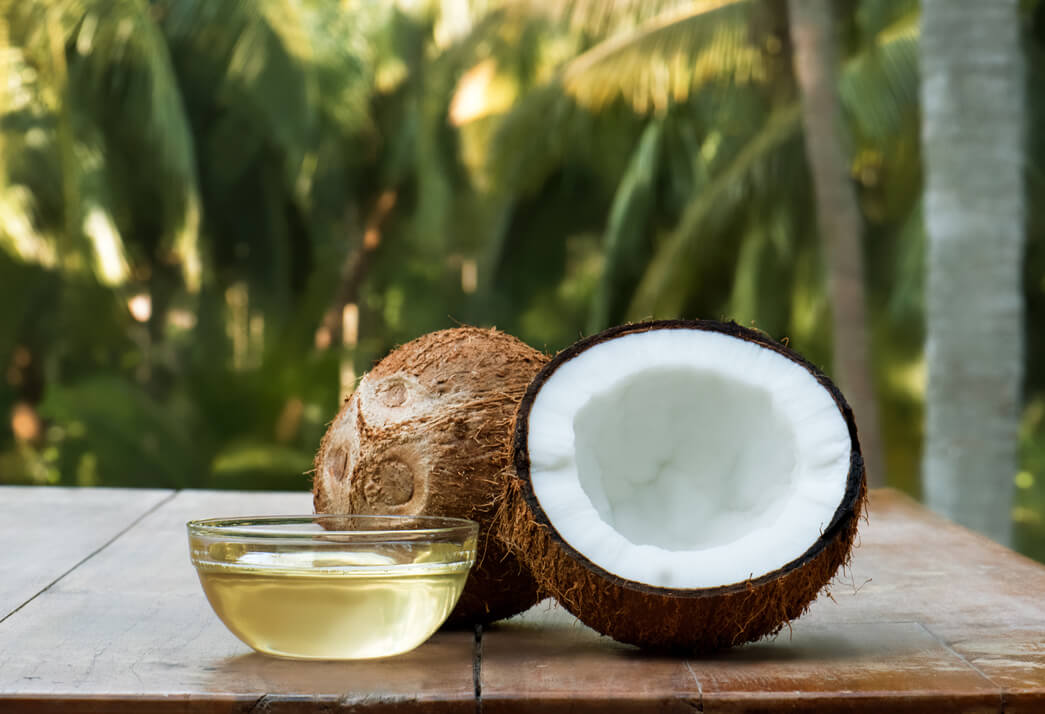 4 More Reasons Coconut Oil Hair Care is Right for You
You're familiar with the benefits of coconut oil hair care. It softens and smooths strands, controlling frizz and flyaways. It strengthens hair, which is good for preventing breakage and hair loss. It's also great for repairing damage due to over-processing and heat styling.
All of that goodness in one little nut oil? You bet! But there are other benefits to using coconut oil on your skin and hair that you don't read about as often. The oil also aligns with your healthy lifestyle.
Coconut oil is vegan, gluten-free, and Paleo-friendly. Yep, whichever diet you have chosen to follow or dietary requirement you need to meet to stay healthy, coconut oil works. And, of course, organic coconut oil is the healthiest and most beneficial option. 
Haven't thought of using personal care that aligns with your diet? You may be wondering if it makes any difference if you use gluten-free skincare or slather your hair in products that contain animal ingredients.
The answer is YES! The skin absorbs 60-70% of what you apply. Using organic ingredients on skin and hair means your exposure to harmful synthetics, pesticides, and chemical processing byproducts is significantly decreased. If you are sensitive to gluten, ingredients that contain the protein or are contaminated with gluten (yes, even those that are organic) can cause symptoms. As for vegan and Paleo … ingredients that meet these standards not only support your lifestyle commitment but are often healthier too.
Organic, Vegan, Gluten-Free, Paleo-Friendly Coconut Oil Hair Care
Organic 
Choosing organic hair care is an important step in cleaning up your beauty routine and goes along with an organic lifestyle. Remember, not all organic products are created equally. Look for hair care labeled "100% Organic" to ensure the product is made completely with certified organic ingredients, and is free from toxins. Products labeled "organic" or "made with organic ingredients" can still contain synthetic ingredients that dry the hair and carry potential health risks.
Vegan 
Whether you've chosen to go vegan due to health or moral commitments (or both), incorporating animal-free items into your hair care regimen is a great idea. Of course, using cruelty-free is on everyone's commitment list, but there are other benefits to using vegan cosmetics too. Plant ingredients offer vitamins, minerals, and antioxidants, and are overall healthier alternatives to animal and chemical ingredients. Another advantage to using coconut oil over an animal ingredient like lanolin? Lanolin is an occlusive with creates a barrier on skin and blocks pores. Coconut oil all the way!
Gluten-free
A gluten intolerance is no small deal. It can cause everything from acne and skin sensitivity, to serious gastro-upset. Avoiding gluten in cosmetics is essential if you've been diagnosed with a gluten allergy or Celiac disease, or even if you feel you are sensitive to gluten. We tend to think of gluten as a substance found in wheat only, but this protein is also in oats, rye, and barley. To avoid gluten contamination in skincare, steer clear of products containing wheat germ oil, hydrolyzed wheat protein, avena sativa oil, hydrolyzed vegetable protein, and barley extract.
Paleo-friendly 
Using Paleo-friendly ingredients in skin and hair care products is about aligning with your lifestyle beliefs, though those dealing with an inflammatory disease may benefit from this too. Natural, minimally-processed ingredients support a Paleo lifestyle. And coconut oil is a saturated fat, which definitely falls under the heading of Paleo-friendly.
One ingredient that lines up with all four of these lifestyle needs and choices is coconut oil. It is part of a healthy skin and hair care routine, and won't interfere with your vegan, gluten-free, or Paleo choices or needs. 
100% of ST. TROPICA ingredients are Certified USDA Organic. Our Virgin Coconut Oil (VCO) is Certified Cruelty-free with Leaping Bunny and Certified Vegan through PETA. Absolutely no animal testing or animal-derived ingredients ever. ST. TROPICA Coconut Oil Hair Mask is completely free from chemical ingredients, sulfates, parabens, gluten, soy, additives, stabilizers, and synthetic preservatives and fragrance.
Are we the one hair care product on the market that suits all lifestyles? We think you'll find that our coconut oil hair mask is your new favorite beauty treat and will become a staple in your healthy routine.