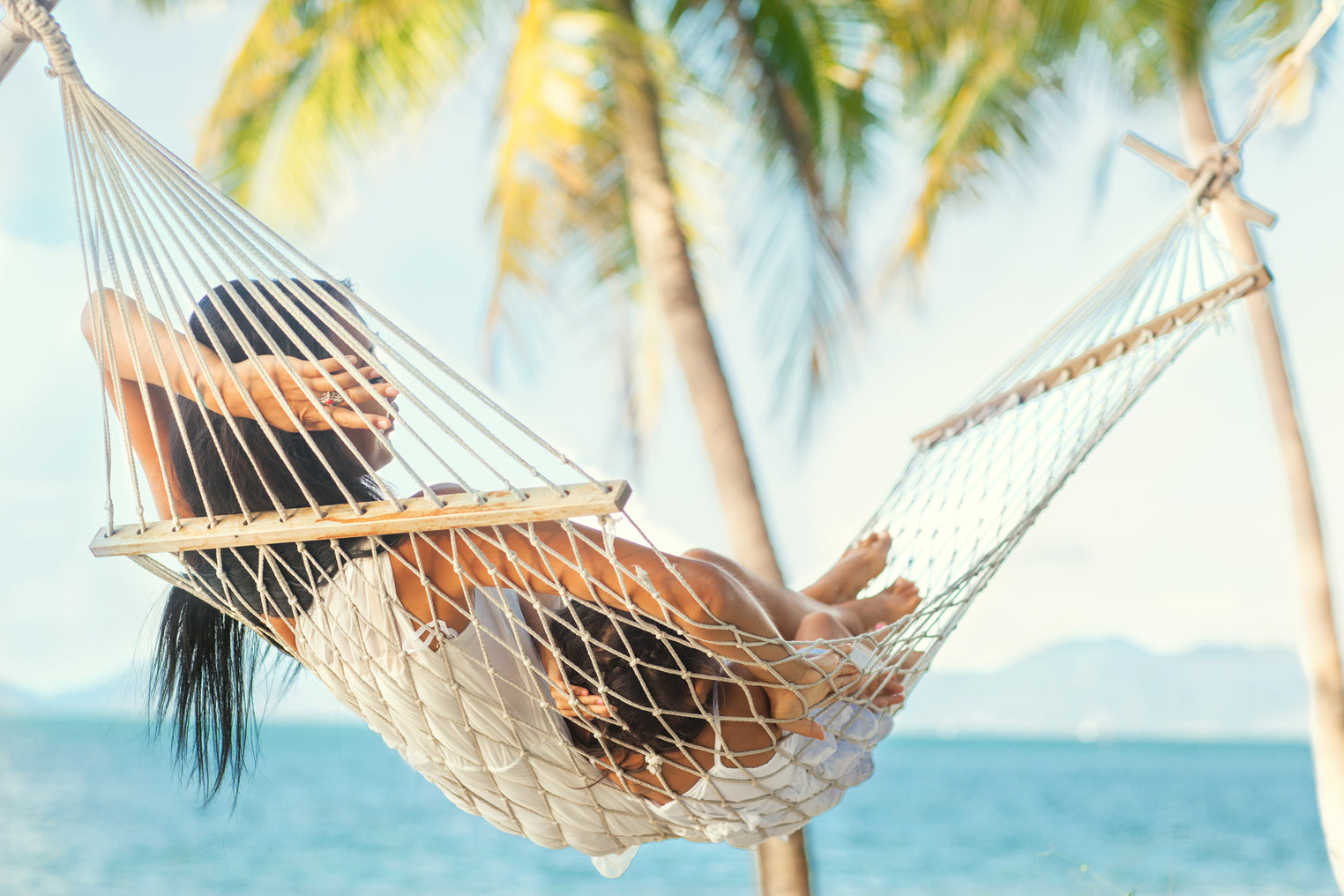 Let's Talk About Postpartum Hair Loss
Becoming a new parent can be both exciting... and a bit overwhelming. There are so many incredible life changes all happening at once! While nearly all of these changes are exciting, some temporary changes may be surprising or unwelcome, like Postpartum Hair Loss.
We understand that Postpartum Hair Loss can be alarming. After months of having thick, healthy, lush hair - sudden shedding can feel jarring. Fortunately, we are happy to share with you that this hair loss is often temporary and your normal hair growth rate will resume in just a few months.
What is Postpartum Hair Loss? 
What we often refer to as Postpartum Hair Loss is actually Telogen Effluvium, a temporary hair loss condition that tends to affect people after a stressful or traumatic life event like childbirth or surgery.
After childbirth, hormones in a woman's body fluctuate and can cause Telogen Effluvium. This typically lasts for 1 to 6 months, but in more severe cases can last up to 18 months. During this time there are a number of hair care and support methods you can implement to support your hair growth and encourage faster hair growth.


10 Tips for Dealing with Postpartum Hair Loss
1. Do Weekly Scalp Treatments
A weekly scalp treatment with the Beach Goddess Hot Oil Hair Mask will help stimulate hair growth and deeply nourish your scalp. This mask is made with key nutrients and superfoods to help support your healthiest hair and hair growth.
Not only is this treatment great for your scalp, it truly heals and repairs your hair strands from the inside out, making them stronger and more resistant to breakage.
2. Eat a Balanced and Nutritious Diet
Enjoying a healthy and balanced diet is a great way to support your overall health and hair health each day. Try to incorporate fruits and vegetables with each meal, and prioritize what your body truly needs nutritionally when making your meals. This way your body and your hair will be able to get what they need to function at their best.
3. Take Tru Bloom Hair Growth Vitamins
The Tru Bloom Hair Growth Vitamins are an excellent (and easy!) once-a-day-vitamin that can truly do wonders for your hair health and growth. We've received thousands of reviews from customers around the globe who've found success growing their hair with the Tru Bloom Hair Growth Vitamins, and you can see Postpartum reviews and before/after photos on our Postpartum Resource Page.
The Tru Bloom Hair Vitamins are made with legendary hair superfoods and nutrients to support your healthiest hair growth. They are made with Superfoods such as Hibiscus, Amla, Bamboo Extract, and Acai Berry which are all known and proven to help support hair health, strength, and growth. 


4. Use a Satin Pillowcase
A simple swap that can make a big difference is using a satin pillowcase rather than a cotton one. Cotton pillowcases can be harsh on your hair and cause hair damage or even breakage. Satin has a much more slippery texture and will allow your hair to glide over your pillowcase as you sleep, allowing you to enjoy a damage-free snooze.
5. Use Gentle Haircare
Removing haircare products that contain harmful ingredients (such as phthalates, parabens, silicones, or artificial fragrances) is a great way to support your hair and hair health. These ingredients are not only not beneficial for your overall health, hair, and well-being, but some have also been found to disrupt the endocrine system or mimic estrogen. Do you want to learn more about which ingredients to avoid and which to use? Check these posts out next:
6. Change Your Haircut or Hairstyle
If you are noticing your hair is getting thinner due to postpartum hair loss, you may want to change your haircut or hairstyle! Many new moms find that cutting their hair a bit shorter helps disguise some of the hair loss and also the new hair growth (often called baby hairs) during the re-growth period. If you are noticing hair thinning in particular places (like around your temples) then switching from a side part to a middle part could help reduce the look of thinning hair.
7. Reduce Harsh Hair Treatments
Coloring, bleaching, straightening, and perming your hair can wreak havoc on your hair. We know it's hard to give up these treatments, but it may be worthwhile to - especially while you're going through postpartum hair loss and re-growing your hair. Your hair is particularly fragile during postpartum and these treatments can cause more hair loss. While your hair is recovering and regrowing, we recommend holding off on these types of treatments.

8. Add Volume and Fullness 
Adding a bit of volume and fullness to your hair can give the appearance that your hair is thicker and conceal some of the hair thinning you are experiencing. The Mermaid Mist Hair Thickening Spray is the ultimate volumizer for your hair. Simply spray in this hair thickener from root to tip and style as usual. Once your hair is dry, you'll find that it looks extra thick and voluminous!

9. Avoid Heat Tools
While your hair is recovering you may want to avoid or reduce your use of heat tools. Heat tools like hair straighteners, curling irons, and blow dryers cause damage to your hair by drying your hair out. This makes your hair more brittle and susceptible to breakage and damage. Instead, try heatless styling methods or heatless hairstyles, like our go-to Classic Braided Bun. If you must use heat tools on your hair then try to use them on their lower settings - this will help reduce some of the possible heat-related damage.

10. Try to Reduce Sources of Stress
Stress can be hard on our hair, and it can cause hair shedding and thinning. Becoming a parent can add stress to your life, so if and where possible, try to reduce outside sources of stress. This will not only be beneficial to your mood and well-being, it'll also help your hair regrowth.