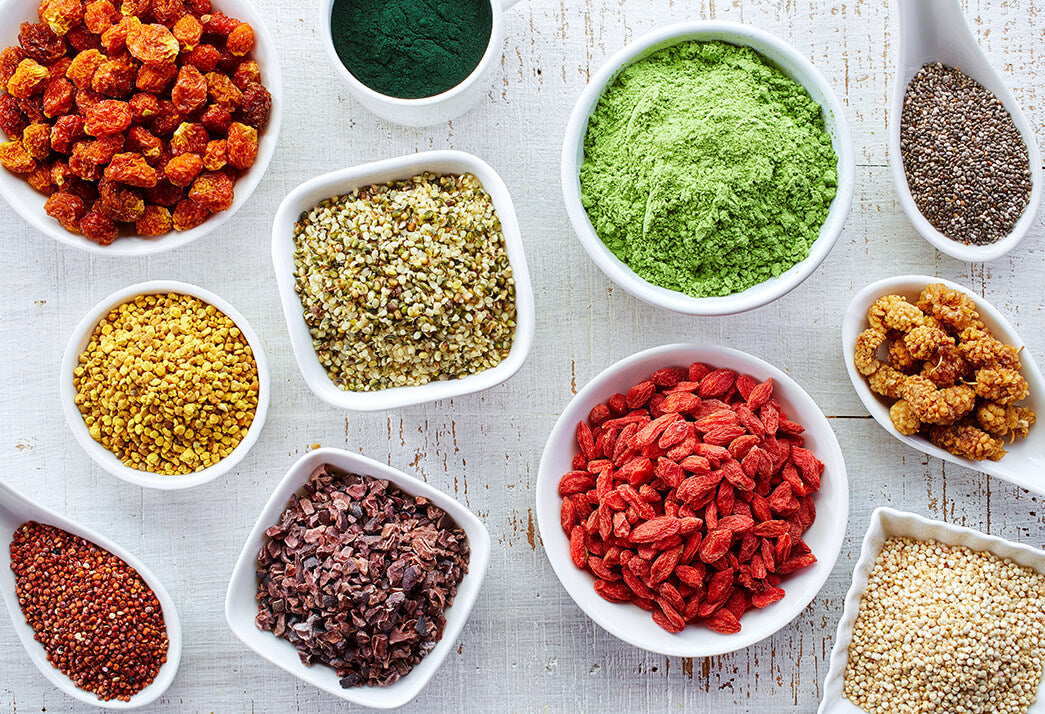 Why You Want These Superfoods for Healthy Hair
Dreaming of longer, stronger hair that looks as beautiful as it feels? Those hair fantasies become reality with our carefully formulated, ultra-high quality, clean and green Hair Vitamins. These beauties are made without fillers, sugar, and other unnecessary or low-quality ingredients. And they truly work to make hair look more gorgeous than ever. 
We take special care to get to know our customers and their desires and are guessing you'd like to know how our Hair Growth Vitamins get the job done. We love to share, so here's an up close and personal look at how we chose our superfoods for healthy hair and why you'll love them.
The 6 Superfoods for Healthy Hair We Swear By (and You Will Too!)
Amla:
This superfood ingredient for hair is certainly no new kid on the block. Amla, otherwise known as Gooseberry, has been used for centuries in Ayurveda for its antioxidants and essential fatty acids. This ingredient strengthens hair follicles and adds lustrous softness from root to tip. A must have in any quality hair vitamin.
Acai Berry:
This superfood ingredient for hair got its nickname as the "beauty berry" for good reason. This little bitty Brazilian berry packs a huge beauty punch with omega 3, 6, and 9 essential fatty acids, more protein content than an egg, a wealth of vitamins B, C, and E, and key minerals, like zinc, magnesium, iron, and calcium. All of this combines to create a healthy scalp, an absolute requirement for healthy, gorgeous hair.
Spinach:
To get hair to grow long and voluminous, it needs one thing … strength! And where better to get a healthy dose of hair muscle than Spinach? We use finally ground Spinach Powder in our Hair Growth Vitamins because it is a rich source of Vitamin A, iron, beta carotene, folate, and Vitamin C, which work together to keep hair hydrated, supple, and resistant to breakage. A daily dose of greens for your locks.
Hibiscus:
A beautiful flower? Yes. A beautiful hair ingredient? YES! Packed with Vitamin C, phosphorous, riboflavin, calcium, and carotene, this blooming superfood for hair growth works like a champ to diminish hair fall and thinning hair for a fuller, healthier look.
Black Beans:
You know them as a superb source of vegan protein power, but Black Beans are also a superfood for hair growth. Aside from a heaping helping of protein, our Black Bean Powder contains iron, zinc, and biotin to a support the most luxurious hair ever.
Bamboo:
An essential mineral that supports the appearance of healthy hair follicles, Bamboo also lends a nourishing sensation to the scalp for your healthiest looking hair. Rich in natural silica and antioxidants, this hair superfood visibly boosts hair growth and thickness.
There you have it, our special natural recipe for your most lustrous, strong, long, vibrant looking hair. All of this in one little capsule a day. Check out what our customers have to say about ST. TROPICA Hair Growth Vitamins.
Recommended Products: