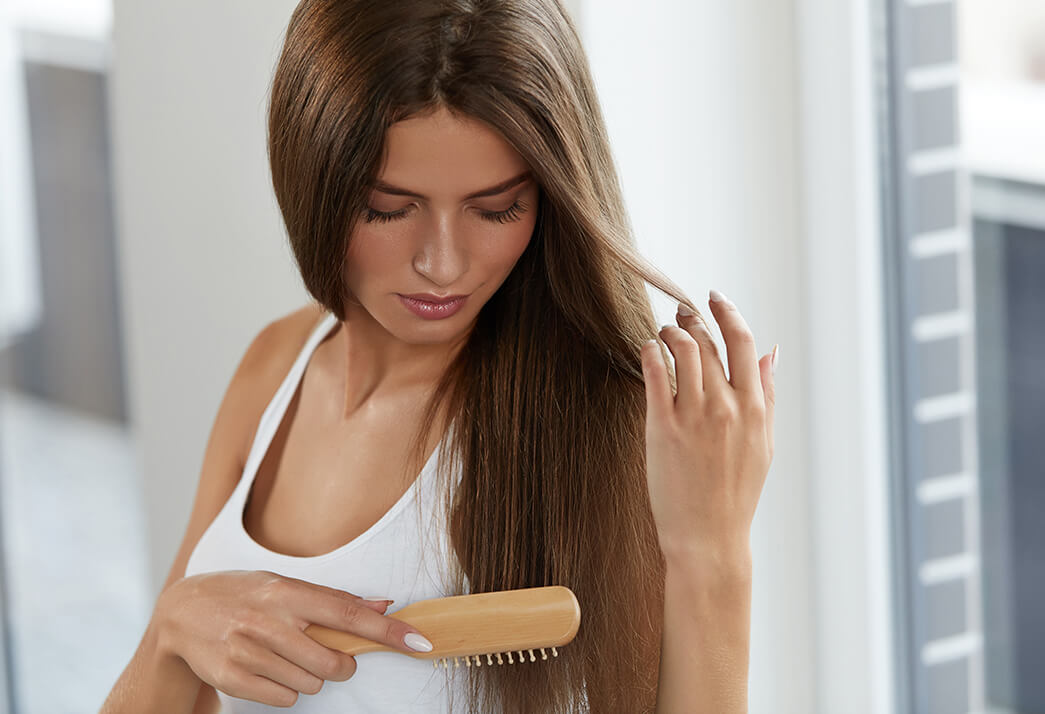 You haven't switched up your hair care. You consistently eat a healthy diet and drink plenty of water. You steer clear of heated styling tools when possible and have eliminated shampoos with sulfates. So, what's up with your dry, brittle hair and straw-like strands?
There are a number of reasons hair can fall flat. Be it change of season (hello, fall and winter!), a new medication, or a hectic lifestyle, these stressors can show up on your mane. The number one reason your hair isn't behaving like its beautiful, bouncy self? Lack of moisture! 
Yep, sapped strands tend to look straight and frizzy, and feel stiff and rough. Hair is also more prone to damage and breakage when it's dried out.
What's a natural beauty gal or guy to do? Get your locks the moisture it craves, STAT!
How to Make Dry, Brittle Hair Look Gorgeous Again
It's true that there are several courses of action you can take when attempting to resuscitate dry, brittle hair. But there is one best place to start. And that's by dousing it in moisture.
Not just any moisture will do, here. We are talking reviving dry hair to a healthy state. Artificial shine and softness ingredients, like silicones, offer temporary improvement only and end up leaving hair in worse condition than where it began.
It's not at all surprising that Coconut Oil is the ultimate answer to dry, brittle hair. You love it for your skin, body, teeth, and a multitude of other natural beauty uses. Of course, it works to restore hair back to its beautiful state. 
Rather than simply coating strands –like silicones and many natural oils– to get that feeling of softness and hydration, Coconut Oil gets past the hair cuticle and into the cortex, repairing hair damage from the inside-out. Our mask is designed to be heated, so the natural ingredients more readily absorb into strands. This also makes for an indulgent feeling treat for the spirit while the mask goes to work.
If you've been slacking off on using ST. TROPICA Coconut Oil Hair Mask, now's the time to get back on the Coconut Oil bandwagon. Haven't yet tried our Organic Coconut Oil Mask? Don't miss out on the 100% organic ingredients, carefully formulated to offer you the best in supporting the appearance of naturally healthy, vibrant hair. 
You may want to up your mask usage to two or even three times a week until your hair is back to normal (or better!) and continue to use at least once weekly throughout winter months. Use your masking time to relax, read a book, listen to a favorite podcast, or catch up on your latest Netflix binge. We promise you'll look forward to these delightful moments in your routine.
Now that you have the answer to your dry hair woes, how about next leveling your hair care routine? We have developed a healthy Hair Growth Vitamin formula, made completely with natural ingredients. These little superstars contain hair superfoods. Pop one daily and see results in hair growth, shine, and volume. Our customers are proof that our new hair vitamins work!
Recommended Products: