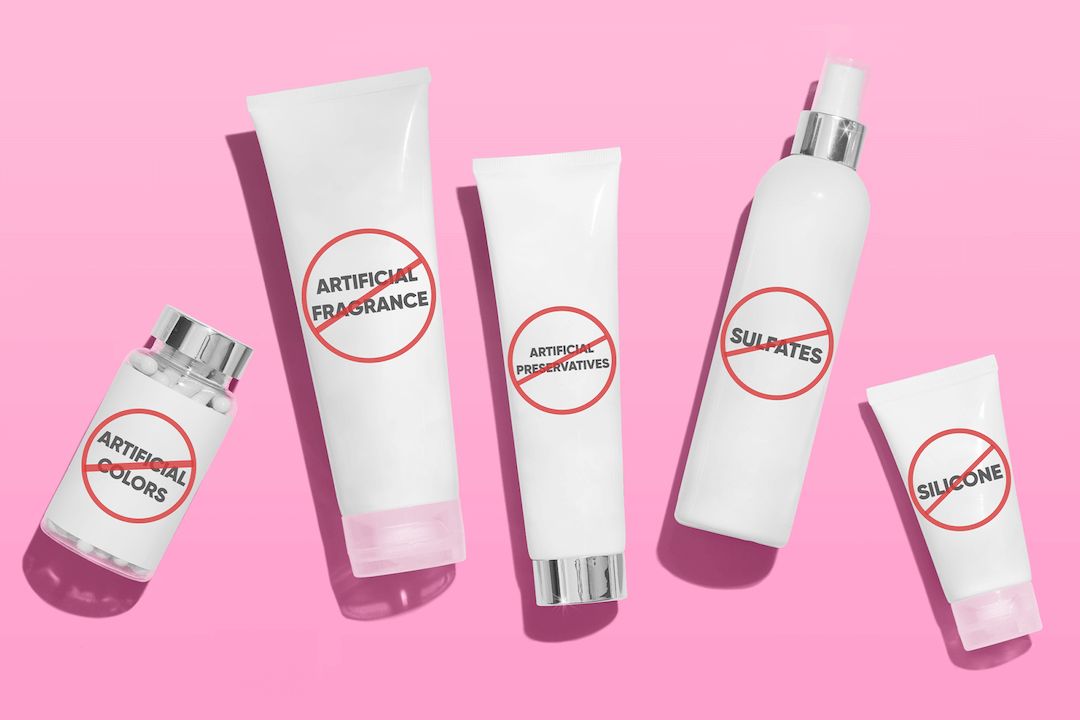 Chemicals in Most Hair Care - What They Do and Why You Should Avoid Them
It's not news that most conventional hair care products contain many synthetic ingredients. While reading ingredients listings is the best way to know what a product is made of and ensure you are purchasing a quality natural product, this process can get time consuming and confusing. That's why we've come up with a list of the most common chemicals in hair care products to avoid and why.
What Ingredients To Avoid in Hair Care Products
Here at ST. TROPICA, we proudly craft natural formulas made with organic ingredients and free from harmful artificial ingredients. We put it on each and every label. But it's not always so easy when shopping for hair care to determine whether a product is free from chemicals to avoid in hair care products. 
Use our handy cheat sheet to know which ingredients to avoid in hair care products and take the guesswork out of your beauty shopping.
Ingredients in Hair Care Products To Avoid:
Artificial Colors — It's certainly not uncommon to see a variety of intense colors in hair care products. Shampoos that are bright purple, hot pink hair serums, and the list goes on. But artificial colorants are made from petro-chemicals with links to carcinogenic impurities. Look for FD&C or D&C followed by a name and number (for example, FD&C RED NO. 40) on product labels.
Artificial Fragrance — Of course, you want your hair care to smell divine. But it doesn't take synthetic fragrance ingredients to deliver a delightful smelling product. Synthetic fragrances are linked to many health issues, including allergic reactions, skin irritation, headache, dizziness, hormonal disruption, nausea, asthma, and impaired fetal development. But looking for synthetic fragrance ingredients on product labels gets tricky due to a trade secret loophole that allows manufacturers to keep their fragrance ingredients under wraps. Check to see if the product denotes "from natural sources", "plant & fruit derived", or "fragrance from essential oils" on the label.
Artificial Preservatives — Any water based product must use some sort of preservative method in order to ward off bacterial and microbial growth. But parabens and other artificial preservatives have links to hormonal disruption and other health risks. To I.D. parabens on a product label, look for ethylparaben, butylparaben, methylparaben, propylparaben, isobutylparaben, and isopropylparaben. Natural preservation methods consist of certain essential oils, and processing and packaging methods.
Sulfates — Sulfates are surfactants used to make shampoos foamy upon use. But commonly used sulfates sodium lauryl sulfate (SLS) and sodium laureth sulfate (SLES) can irritate and dry the skin. Castile soap, soapwort, and coco glucoside are effective natural alternatives to harsh chemical surfactants.
Silicone — Silicones are used in a wide range of hair care products to give hair that silky, smooth feel. But with continued use, silicone can dry the hair and scalp, causing hair to look damaged. I.D. silicone ingredients on product labels by looking out for dimethicone, dimethiconol, dimethicone copolyol, cyclomethicone, methicone, phenyl trimethicone, and other ingredients ending in "cone".
All ST. TROPICA products are free from artificial colors, artificial fragrance, artificial preservatives, sulfates, parabens, and silicone. Furthermore, every applicable ingredient ranks #1 on the coveted EWG Skin Deep database. High quality hair care without the nasty chemicals.