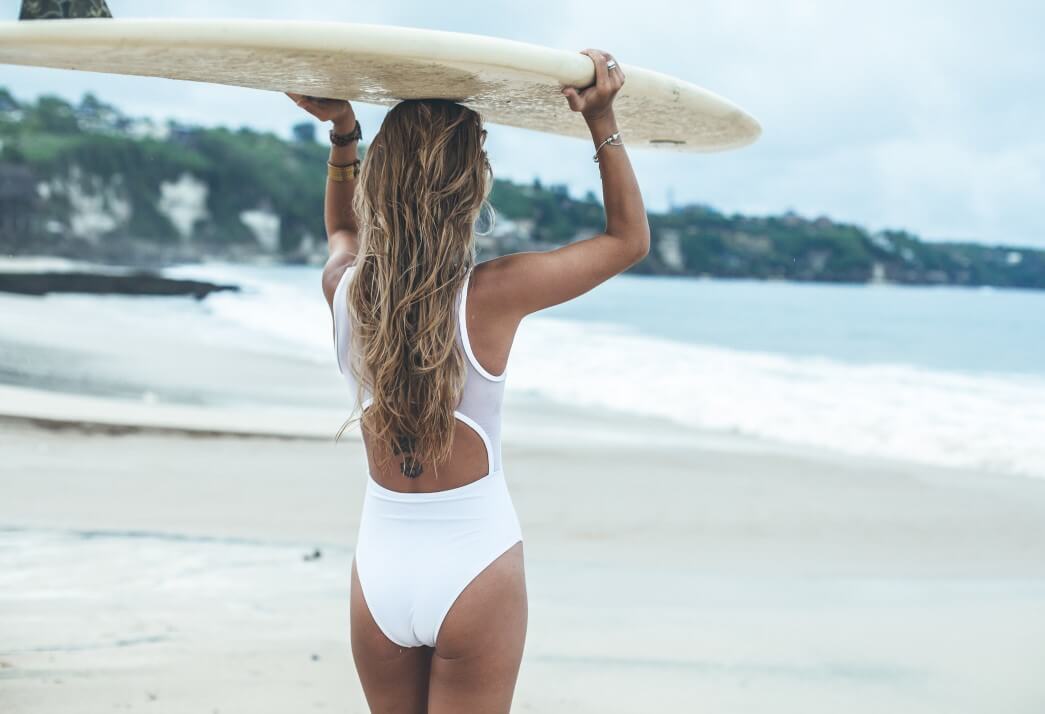 A Day At the Beach: How to Maintain Healthy Hair On Vacation
A beach vacation may leave you tanned, satisfied, and stress-free. Nothing like a bit of salt, sand, and sunshine to restore the spirits. If all of that fun in the sun makes your locks look less than revitalized, use these healthy hair tips to get you through your next beachy vacay with tresses intact.
We may use salt spray on our hair as a land-locked solution to beachy waves. So, why does time spent seaside leave strands looking parched, lifeless, and lackluster?
While sea salt is perfect for inducing those natural surfer girl waves, it is drying. Sun and wind also contribute to sapped strands. Don't panic! You can get in on surf and sun, and still rock your favorite 'do. Proper care and the right products mean shiny, bouncy, healthy hair.
5 Tips for Healthy Hair for Beach Goers
1. Protect your strands:
What's the number one thing you do before hitting the sand? Apply sunscreen. Well, your hair needs protection from UV damage and the elements too.
Coconut oil has a bit of natural sun protection (equal to approximately SPF 8) and is ideal for warding off signs of hair damage.
Apply our Organic Coconut Oil Hair Mask prior to your day at the beach for its protective and moisturizing qualities. Added bonus … you'll be amazed how lush and soft your hair feels after shampooing.
Recommended Products:
2. Use moisturizing shampoo and conditioner:
Even if you don't use shampoo and conditioner with added moisturizing ingredients, switch it up when headed to the beach. It's surprising how fast wind, salt, and sun can dry out locks. Using products with natural moisturizers, like healthy plant oils and butters, will keep strands feeling hydrated and resilient.
3. Skip the heated styling:
Leave your blow-dryer, flat iron, and curling iron at home. There's only one heated styling tool you need for a beach vacay, and that's the great outdoors. Allowing hair to air dry is gentler on strands and allows for a supernatural look. Achieve more voluminous and full looking beach waves, without having to use heat tools, with the Mermaid Mist Hair Thickening Spray.  Or, try our take on the Classic Braided Bun for an easy and chic style on the go.
4. Wear a Hat:
Especially important for those with color-treated hair, a pretty straw hat not only protects hair from the drying elements of the sea but shields the face from UV rays too. Stylish and practical, this accessory is a beach day must-have.
5. Post Beach Rinse:
Back to that fabulous sea salt, we all love for beachy waves. Be sure to rinse your hair thoroughly with cool water after a day at the beach. Cool water is gentler on strands and leaves hair looking healthy and glossy.
See, you can have your beach vacation and return home with healthy hair too. Follow our five simple steps and don't forget to pack our hair mask. Conveniently packaged for travel and at 1.5 ounces you can even stow it in your carry on. The perfect travel companion.