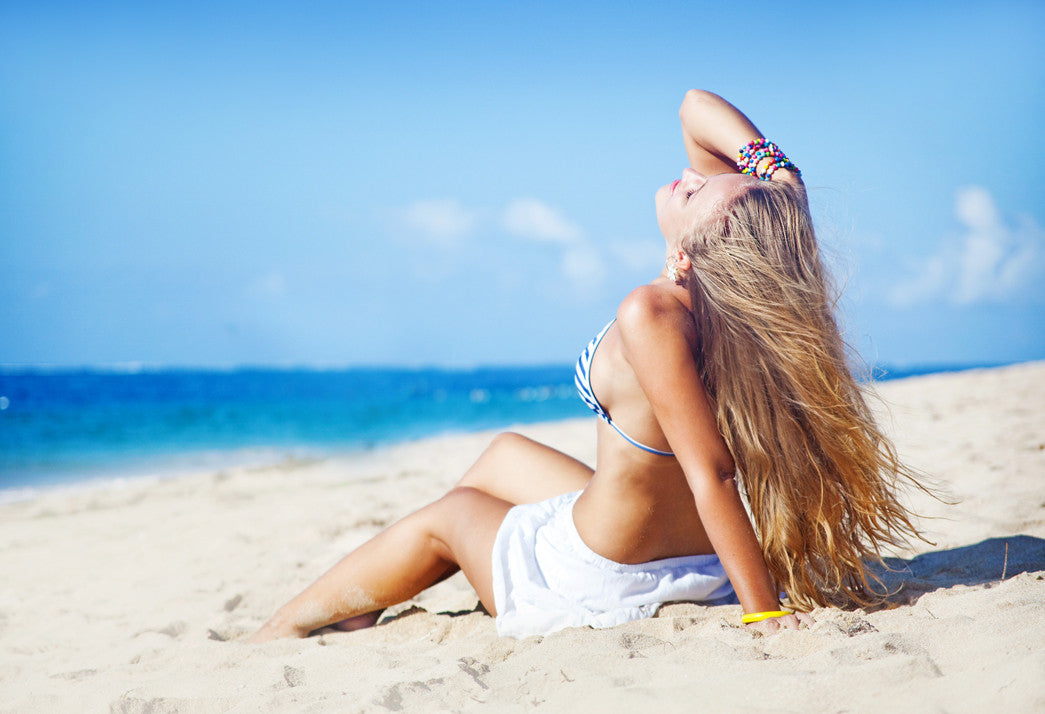 Can a Hair Mask Actually Boost Hair Growth?
Favorite hairstyle of summer? It has to be the up do. As we climb out of winter hibernation and get ready to kick our heated styling tools to the curb, one thing you may be wondering is … What can I do to get longer hair fast? Good news! We have a way to boost hair growth naturally, just in time for summer.
If you've been using prescription or chemical hair treatments for hair growth with no results, you will love this tip. It's natural, simple, and feels luxurious.
What's the big secret? A coconut oil hair mask!
Yes, the world has gone crazy over this natural oil. And for good reason. Coconut oil works wonders on dry skin, helps to calm irritation and inflammation, makes an ideal makeup remover, is a natural teeth whitener, and many people love it in their morning cup of coffee. It is also the ultimate hair care ingredient.
Before we go further, let's talk about what causes hair growth to slow down. Think about it in terms of skin. When skin becomes dry from too much sun exposure, indoor heating, or synthetic skincare ingredients, it looks less vibrant and lifeless, right? Same goes for the skin on your head. When the scalp is dry it can not only turn flaky, but causes hair to become limp, lifeless, and even inhibits proper hair growth.
Harmful chemicals used to make conventional hair care, like petrolatum, plasticizers, and harsh surfactants, dry out hair and scalp, and may cause irritation. This encourages flakiness, which clogs hair follicles and traps sebum. Not good for hair growth or beautiful locks.
The best way to keep strands and scalp healthy, and promote hair growth, is by using safe, natural hair care. Our Beach Goddess Hot Oil Hair Mask is hand crafted with Certified Organic Virgin Coconut Oil. This Virgin Coconut Oil is proven to strengthen hair. We add in hair superfood ingredients for a big boost of vitamins and nutrients to keep locks healthy. And strong, healthy hair doesn't break or thin.
But can a hair mask actually boost hair growth?
The answer is yes! And here's how. Using a coconut oil hair mask moisturizes the scalp, and keeps hair soft and supple, so strands won't become brittle and break. It also boosts circulation, removes sebum build up, and unclogs hair follicles. All important in stimulating hair growth.  That, in addition to the magical "hair superfood factor" only found in our ST. TROPICA hair mask, are really what all the excitement is about.
How should you use our Organic Coconut Oil Hair Mask?
Apply the heated coconut oil hair mask to dry hair, massage into scalp and hair, and wrap in a towel or shower cap. Now sit back for 20 indulgent minutes (or preferably overnight) while the mask works its magic, and sip a green tea or (what the heck, it's almost summer) margarita. Wash and style hair as usual. Use our hair mask weekly for best results.
Who is a coconut oil hair mask best for?
Anyone who wants shiny, healthy, longer hair. Our Organic Hair Mask is safe for all hair types, even color-treated, is super gentle, and smells amazing. It is also easily transportable, so no need to miss a treatment while traveling.
When will you see hair growth results?
Of course, hair can only grow so fast. Don't expect added inches by next week. But you will notice healthy, shiny looking hair after the first use. Treating hair and scalp to a coconut oil mask regularly will de-stress your tresses, and you'll be sporting longer hair for summer months. Better invest in some cute hair accessories.
Recommended Products: