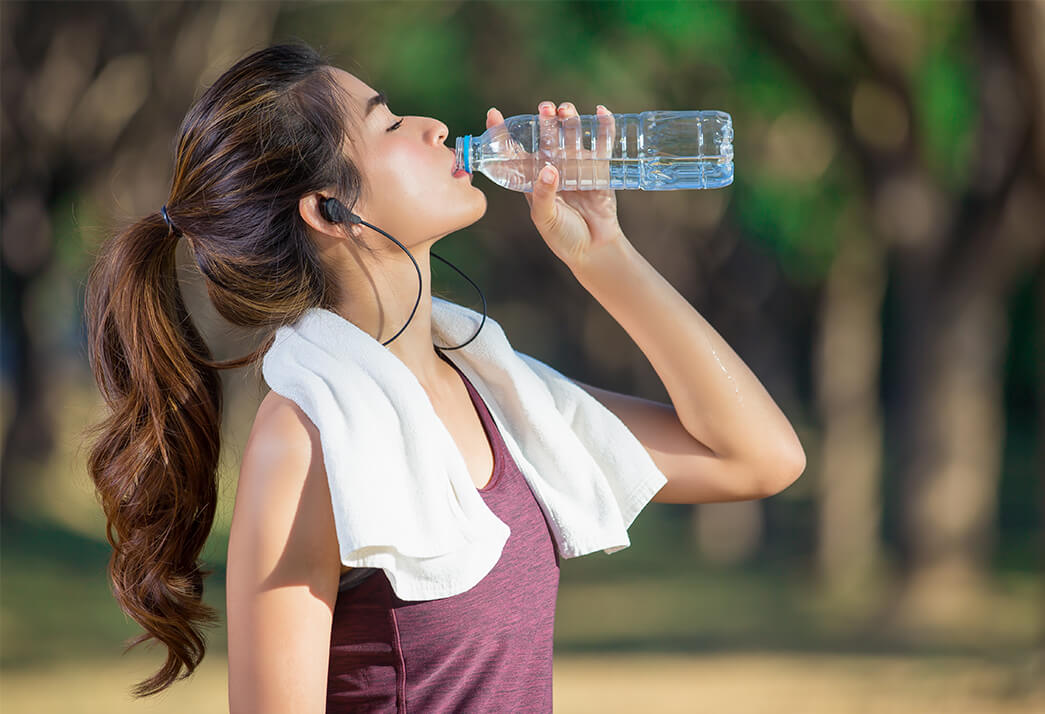 8 Reasons to Check Your Water Intake for Healthy Hair
It's pretty much a given that eating a healthy diet benefits skin and hair. Using toxin-free hair care is another way to keep your mane in check. How's your water intake? Yep, your level of hydration could be standing between you and strong, shiny locks.
Water makes up over 50% of our body mass, so it makes sense that proper hydration keeps the system running smoothly. Downing good ol' H2O helps to expel toxins, promotes clear, glowing skin, and keeps the mind feeling alert and sharp.
Optimal daily hydration is good for locks too. It makes hair look shiny and voluminous, and even supports hair growth.
You may be wondering how much water to drink each day. While specific amounts vary due to age, climate, and activity level, the Institute of Medicine (IOM) recommends women drink about 9 cups (2 liters) per day, and men drink about 13 cups (3 liters) per day.
Yes, remembering to get your water in each day can be struggle. Try filling a bottle with filtered water and a wedge of lemon or lime to sip throughout the day and refill when necessary. Take your bottle on the go and make sipping the first thing you do when you wake up and the last thing you do before turning in at night.
Still doubting you need that much liquid in your life? Here's why you and your hair will love more water.
8 Ways Water Benefits Your Hair
It's in the strands:
We mentioned above that water makes up a large part of our bodies. Well, this goes for hair too. Strands are about one fourth water. That means adequate hydration results in stronger, healthier hair.
Healthy scalp, healthy hair:
Keeping hydration levels high makes skin feel soft, supple, and healthy. A hydrated scalp reduces hair fall, resulting in full, shiny looking hair. Drink up!
Growth factor:
Working on growing out that shoulder length bob? Or maybe you have super slow growing locks due to breakage. Drinking plenty of water maintains healthy nerve endings in the scalp and keeps hair roots healthy, supporting hair growth.
Muscle builder:
Hydration makes for stronger hair. Strong, healthy hair is less likely to break or get limp and frizzy. Tip your bottle to buff strands.

Curl up:
Dry hair tends to look straight, slack, and lifeless. Give some spring back to your mane by drinking up. Once you have your wave or curl back, don't be afraid to rock your natural texture.
Feel better and look better:
That headache you've been sporting day in and day out? Could be a sign of dehydration. Suck down a few more glasses of water and see if the pain subsides. Everything, including your hair, looks better when you don't have a nagging headache.
Banish damage:
Drinking water isn't the only way fluid makes its way into hair. Strands absorb and swell up with water when washed, then shrink back down as they dry out. This repetitive process causes damage, which is one reason it's recommended to wash hair only when necessary. Studies show that coconut oil is the best oil for penetrating strands and reducing protein loss, keeping hair from becoming dried out and unhealthy.
Go coconuts:
Zhoosh up your hydration plan by subbing out a glass of plain H2O with coconut water. It's tasty, has fewer calories and sodium than typical energy drinks, and is high in potassium. Plus, we know how much hair loves coconut. Just give our coconut oil hair mask a spin for an instant look of healthy, fabulous locks.
The moral to this story … don't skimp on hydration. Take a look at your daily water intake. If you are dealing with limp, thin, dry, dull, unhealthy looking hair, a little more H2O should quench those problems. Let's raise a glass to a thick, strong, shiny mane!