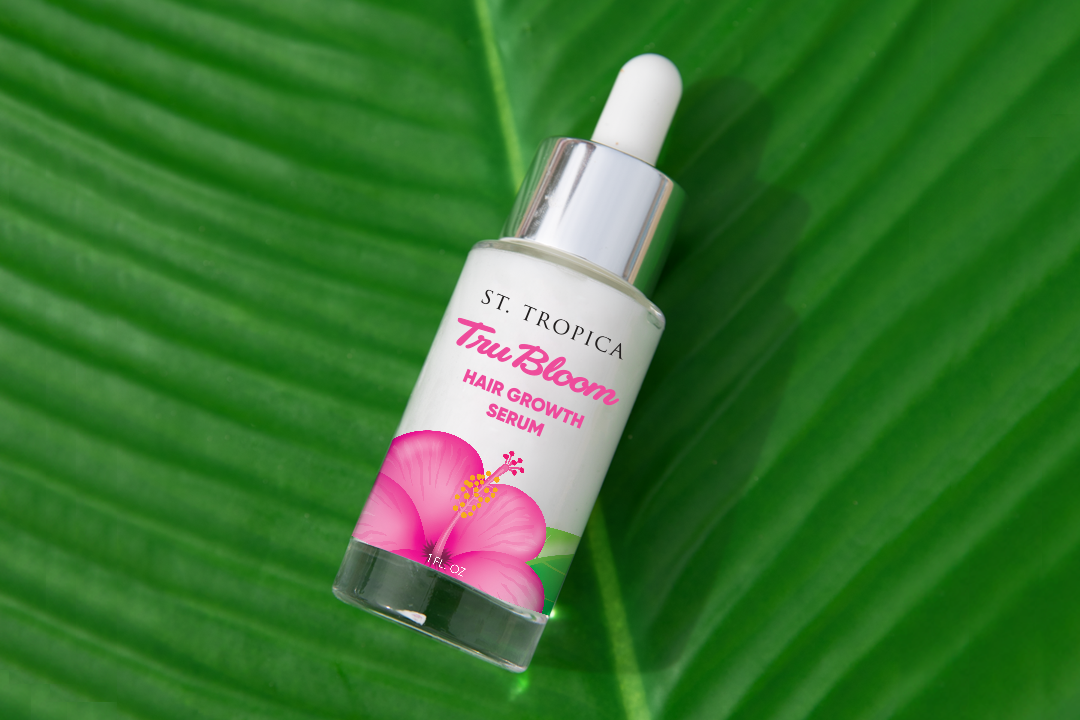 Transform Your Hair At The Root
Our Tru Bloom Hair Growth System has grown again! After recently launching our NEW
Tru Bloom Hair Growth Shampoo & Conditioner
, we decided to unleash our newest Tru Bloom family member: The Tru Bloom Hair Growth Serum.
Just like with our
Tru Bloom Hair Growth Shampoo & Conditioner
, we have spent years perfecting our NEW
Tru Bloom Hair Growth Serum
. We took our time to ensure that every aspect of our serum was perfect - the formula, the packaging, and yes -- the results. Perfection takes time, but we truly believe that all that time and love poured into this product was 100% worth it! (And, we think you'll agree!)
What is the Tru Bloom Hair Growth Serum
The
Tru Bloom Hair Growth Serum
is a soothing yet refreshing Topical Hair Growth Treatment, formulated with Powerful Hair Growth Ingredients such as Hibiscus Extract, Panthenol, Saw Palmetto, Bhringraj, Peppermint Oil, Rice Protein (and more!) to help invigorate the scalp and stimulate new and faster hair growth.
Formulated With Scientifically Proven Ingredients
Hibiscus
Hibiscus is rich in vitamin C & antioxidants which reduce signs of hair fall and help hair appear thicker & fuller.
Panthenol
Panthenol moisturizes hair strands so that hair appears stronger, shinier, & healthier.
Saw Palmetto
Saw Palmetto improves hair growth and helps prevent hair loss & thinning.
Bhringraj
Bhringraj helps balance the scalp and soothes common scalp issues such as dandruff & dry scalp. It also helps prevent hair fall and encourages new hair growth.
Peppermint Oil
Peppermint Oil stimulates blood circulation to the scalp to accelerate hair growth.
Rice Protein
Rice Protein is rich in amino acids, which help hair appear smoother & shinier.


How to Use the What is the Tru Bloom Hair Growth Serum
Apply once daily to experience longer, stronger, & thicker hair growth and to enjoy an intensely minty fresh feeling on the scalp that will wake you up and give you an extra pep in your step!
Do I Have to Use the Tru Bloom Hair Growth Serum Daily?
No. While we recommend daily use for best results, you can customize your use of the
Tru Bloom Hair Growth Serum
to suit your needs and lifestyle. We do recommend using it a minimum of 2-3 times per week though, to encourage overall hair growth.
If you have specific areas of concern on the scalp (ie. hair thinning, baldness, or hair loss) that you'd like to address, we recommend applying the
Tru Bloom Hair Growth Serum
to those areas daily.
Should I Use The Full Tru Bloom Collection?
Yes! Our products are formulated and designed to work together to stimulate new and faster hair growth. Using the full Tru Bloom Hair Growth System will ensure you see astonishing hair growth and hair health results, fast.