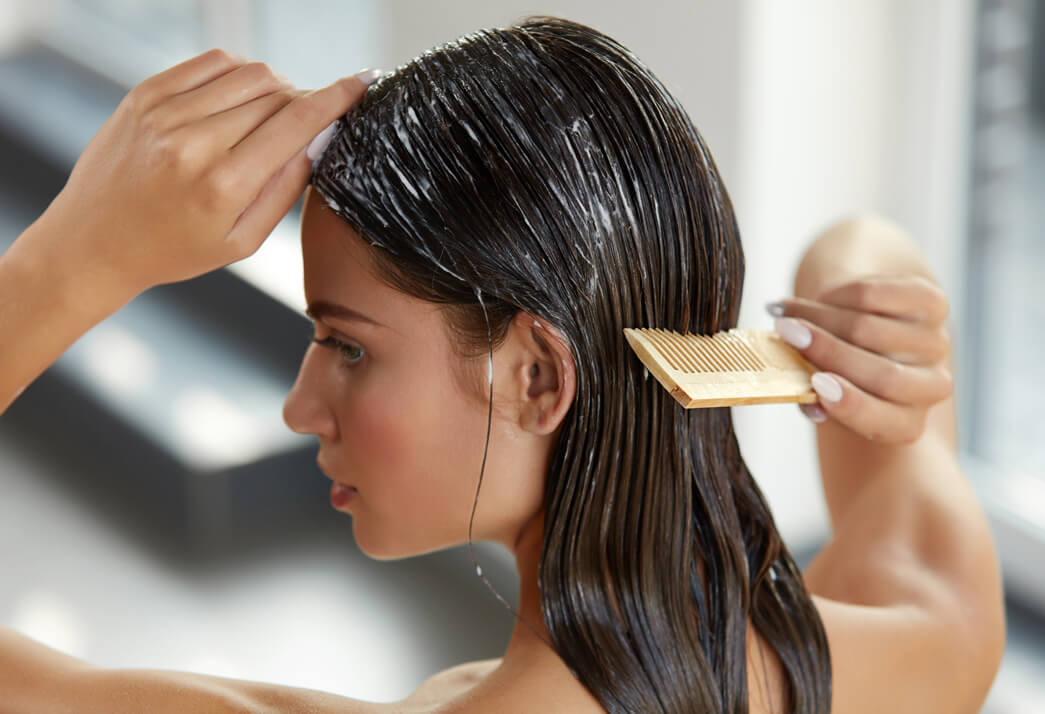 Smooth Operator: Why Coconut Oil for Hair is the Best Detangler
Who has time to battle those irritating knots and tangles that crop up every time you wash your hair? Not to mention the breakage, frizziness, and split ends they cause.
While those with long locks, fine strands, and curls tend to see more knots, all hair types have the ability to become tangled. If you are drenching your locks in detangling products regularly and still do battle with knots after every shampoo, your product choice may be doing more harm than good.
Conventional leave-in hair detanglers may work in the short term, but lead to more damage. This results in, you guessed it, further tangling. Or maybe you are using a natural hair detangler that does little to no good in getting through your hair snags, or leaves hair looking greasy or weighed down.
Time to take a closer look at what why your hair becomes tangled in the first place. Plus the best ingredient to make combing a snap (without snapping strands!) and keep those gnarly snarls at bay.
5 Steps to Getting Rid of Tangled Hair for Good
Good Condition:
Dry hair — whether due to heated styling, over-processing, dry climate, or a tendency toward dryness — is more likely to tangle and knot. By keeping your hair well moisturized you not only make combing through wet hair easier, but avoid those tangles that crop up during the day. Choose natural hair oils to infuse strands with moisture, and create smoothness and manageability. Coconut oil for hair is best at infusing hair with healthy moisture because it fully penetrates the hair shaft and repairs hair damage from the inside-out.
Go Organic:
Those chemical-loaded detanglers may result in smoother strands straight off, but over time will lead to hair damage. And we know that damaged locks equal even more tangling. Conventional hair detangling products are made with synthetic silicones that coat the outside of strands and prevent hair from drawing in moisture. So, basically, these silicone hair detanglers only provide a smooth look and feel while they are on the hair. Once rinsed off, hair is more dry and unruly than ever. Hair care made with certified organic ingredients and free from toxins, like harsh sulfates, is best for keeping hair healthy and manageable.
Pare Down:
By using fewer products on your hair, and making sure those you use provide the biggest benefits, your hair will stay healthier and better behaved. Rather than coating strands in a variety of products (and ingredients) daily, try shampooing only when hair is actually in need of washing, and applying multi-tasking treatments that condition, strengthen, and smooth all in one.
Get Trimmed:
Even if you are growing out your hair, it still needs a regular trim to keep ends healthy. Go in at least every 12 weeks to have your ends professionally snipped. This not only results in better looking hair, but allows hair products to work better too.
Brush Lightly:
It's tempting to rake a brush through wet strands and get on with it, but this can lead to breakage and frizziness. Use a wide toothed comb, starting at ends and working up to scalp, and gently pick through wet strands. Using a weekly hair mask will make this process easier.
The bottom line to ditching tangles for good is making sure your hair stays healthy. A weekly coconut oil hair mask keeps locks smooth, moisturized, and less prone to breakage and split ends. Why mess with drying chemical concoctions that mean repeat performances of tangle control? Organic coconut oil is the best at healing and supporting strong, beautiful hair.