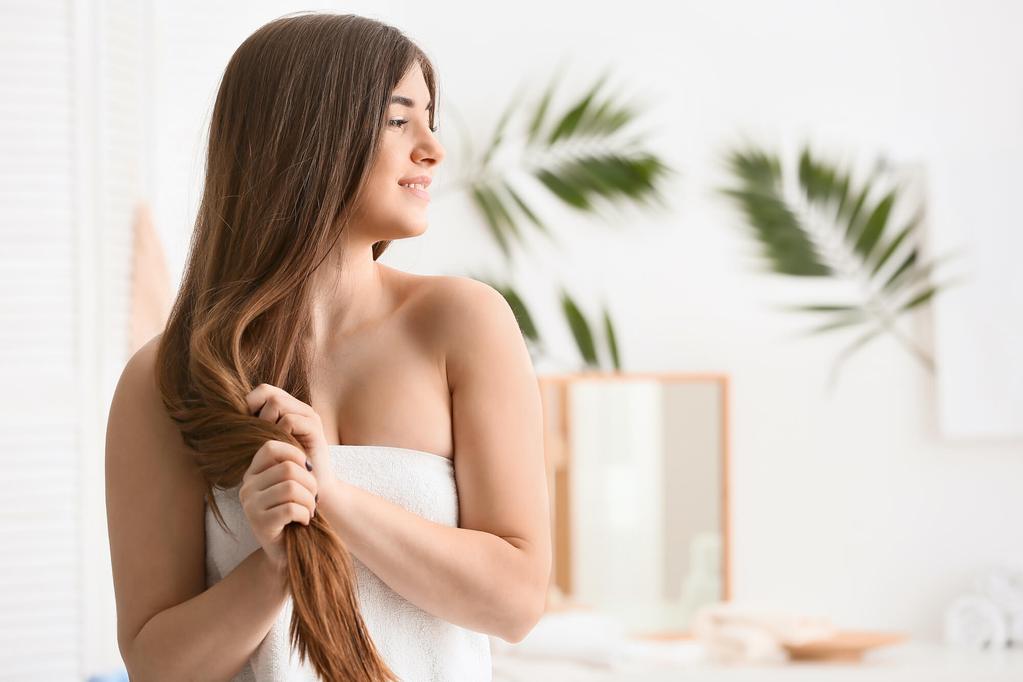 5 Products You'll Want to Use on Your Hair and Hair Extensions
Keeping your locks gorgeous doesn't stop once you've reached your desired length or splurged on hair extensions. Proper care will keep your hair in tip-top shape and there are certain products everyone needs in their hair care arsenal. From an amazing coconut oil detangler to the best hair mask for hair extensions and long hair, find out what you'll want to stock up on today.
5 Products for Your Hair and Hair Extensions
Long hair requires slightly different care, and here's why. Since shorter strands usually get trimmed more frequently, there's simply less hair to care for. Hair is exposed to less damage from the elements and heated styling tools because it is snipped off before it gets long. Short hairstyles also see less breakage because they aren't pulled back or pinned up.
Yes, you should still get long strands trimmed regularly. But that's only the tip of the, well, hair strand. The moral of this story…take great care of your long hair and it will reward you by looking amazing now and in the future. 
There are hair care products to make a part of your daily routine, and those that you'll use less often, like a weekly hot oil mask for hair extensions. 
Coconut Oil Detangler
This beauty is a daily use item that works well on all hair types and lengths, and can even be used on hair extensions.
Coconut oil
offers non-greasy moisture, making it ideal for detangling hair. ST. TROPICA
Luscious Locks Leave-In Conditioner
contains Coconut Oil and hair superfoods to leave hair feeling silky soft and smooth. Simply spritz onto damp hair to make detangling a breeze.
Hot Oil Hair Mask
There are hot oil treatments. And there are hair masks. So, what's up with a hot oil treatment vs hair mask, and which is best for your hair? Glad you asked! ST. TROPICA
Beach Goddess Hot Oil Hair Mask
is the ultimate hair mask that works as a hot oil treatment. You heat this Coconut Oil and Hair Superfood combo to deliver a beauty bonanza deep into strands. The result is hair that looks as amazing as it feels. This formula is the best hair mask for hair extensions and natural hair of any length. Use 1-2 times weekly.
Deep Conditioner
Wondering what, exactly, qualifies as a deep conditioner? When you want to deliver that extra bit of moisture and protection beyond what your daily use conditioner offers, you are looking for deep conditioning. The downside of many conventional deep conditioners is that they contain
silicones
. Silicone ingredients may make hair look better at first, but, with continued use, leave hair looking dry and lifeless. Opting for a hot oil treatment vs deep conditioner, like you get with Beach Goddess,
visibly improves damage
and will keep hair feeling healthy for the long run.
Dry Shampoo
Sometimes hair of every length needs a hit of refreshment. That's where dry shampoo comes in. Take ST. TROPICA
Aloha Babe Dry Shampoo
. It not only absorbs excess oil on second (or third) day hair, but lends a look of volume too. And the best part, it's made with natural ingredients that support the appearance of healthy hair. Feel free to use as often as you like. Makes a great spot treatment for bangs too.
Hair Growth Vitamins
Even if you aren't looking to grow your hair long, hair growth vitamins help to keep your hair looking thick, strong, and healthy. Be sure you get your money's worth and purchase hair vitamins made with only the highest quality ingredients. ST. TROPICA Hair Growth Vitamins contain our exclusive Hair Superfood formula of plant- and fruit-based ingredients. No drugs, fillers, or artificial ingredients.