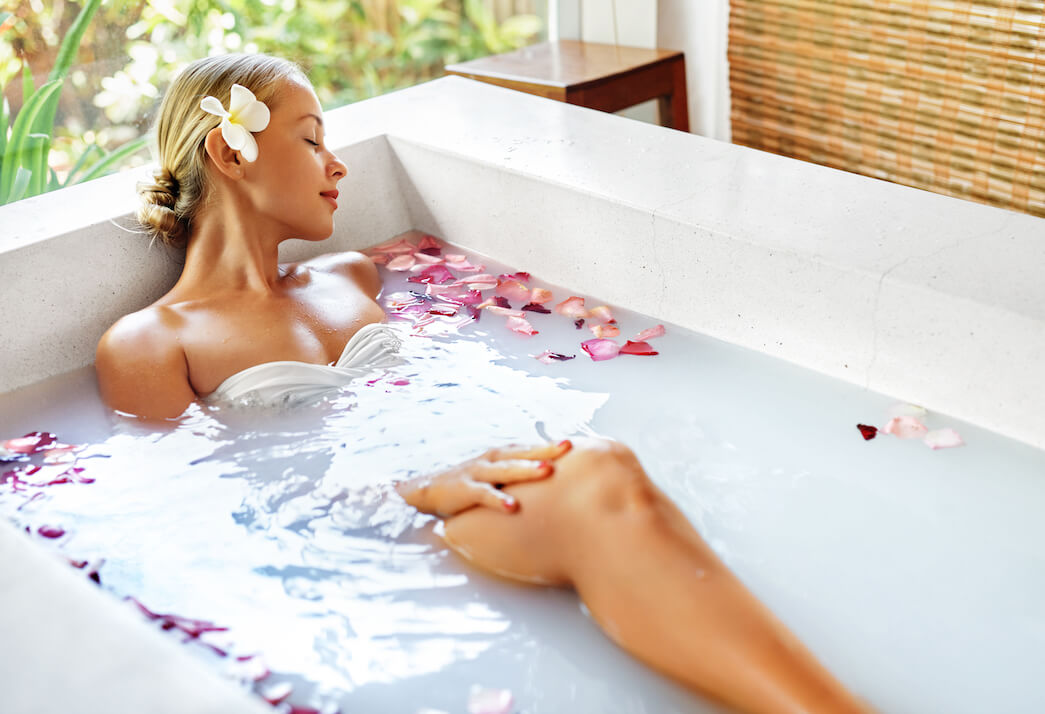 This Coconut Oil Bath Routine Is Your New Favorite Indulgence
The weather is chilling down, your hair and skin seem to be getting drier by the second, and your mood is feeling less than festive. We totally feel that! And happen to have just the thing to turn your skin, hair, and spirit around instantly. A little something we like to call The Coconut Oil Bath Routine.
Yes, you already know that coconut oil is all kinds of wonderful for skin and hair. But have you ever dropped a dollop into a steaming bath? No?? Well, get ready to be amazed. Not only does coconut oil make your bath smell like a tropical heaven, it makes your skin look and feel fabulous and creates a luxe experience that goes way beyond your average bath bomb.
The Coconut Oil Bath Routine
Step #1 – The Hair Mask:
To make this a well-rounded experience of intense moisturization and feel-good vibes, a hair mask is an absolute must. It'll leave your dry, frizzy hair soft and smooth. Those flyaways that just became a part of your every day? Gone. Added bonus … the delicious coconut aroma wafting around your head. Heat up our Organic Coconut Oil Hair Mask as directed, apply with abandon, and wrap your sweet little head in a warm towel.
Step #2 – The Water:
Run your clean tub full of warm, steamy water. Add a scoop of Epsom salts and stir with your hand. Now, grab your jar of Beauty Coco from your beauty shelf and drop a small handful into the water to melt. This blend is going to set you up for the silkiest, softest feeling skin ever. And it smells divine.
Step #3 – The Face Mask:
What time is more perfect for a face mask session than bath time? Take your Coconut Oil Bath Routine to the limit by applying a thin layer to the skin before soaking. This will moisturize the skin and remove dirt, debris, and built-up sebum once you remove it with a soft cloth or mitt.
Step #4 – The Ambiance:
Turn those lights low (or off) and light up a candle or two for a warm, calming glow. Choose those made without synthetic fragrance. Sanari Candles are made with coconut wax and essential oils and come in a wide array of scents.
Step #5 – The Soak:
Now that you and your bath are fully prepared, step in, and soak for as long as you like. Listen to soothing music or your favorite podcast, do a bit of meditating or visualization, or take a nap.
Once you've had your soak and toweled dry, rinse off your face mask and wash out the hair mask. Now apply Beauty Coco to your body, put on your coziest pajamas and fuzzy socks, and jump into bed for a long winter's nap. Repeat as desired.