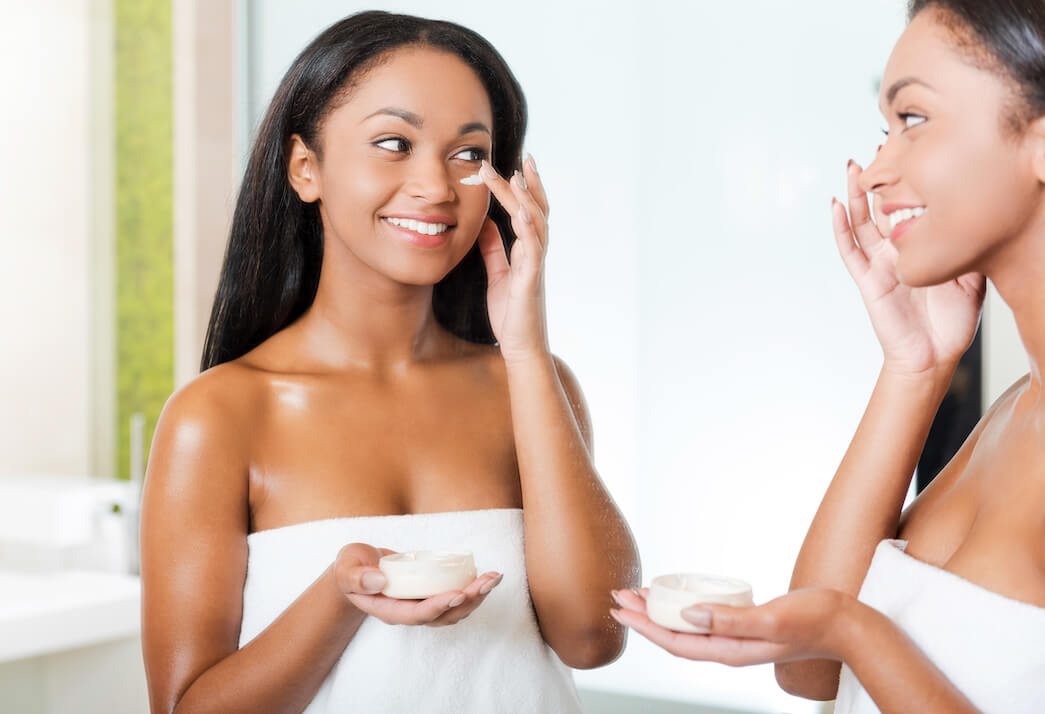 Maybe you thought you'd seen it all where coconut oil is concerned. Let's face it, it's great as a hair mask, makes the perfect lip balm, and works super well at softening rough, callused areas. Of course, it makes the absolute best nighttime moisturizer too.
Before you go slathering good ol' CO from head to toe before hopping into bed tonight, there are a few things to know about this skincare darling. Yes, it's amazing for moisturizing without feeling greasy. But coconut oil does good things for skin beyond simple moisturization.
Why Coconut Oil Makes the Best Nighttime Moisturizer
Coconut oil contains caprylic and lauric fatty acids. Caprylic acid is a medium-chain fatty acid that holds antibacterial, antifungal, and anti-inflammatory properties. Lauric acid also carries antibacterial benefits, so this dynamic duo is great for those with acne, rosacea, redness, and other irritable skin issues. 
Coconut oil is also packed with antioxidants to combat the negative effects of free radicals, like wrinkling, uneven skin tone, and roughness. The oil also boosts Vitamin E content, a superstar in moisturizing and healing skin's appearance.
There's one catch to this huge beauty bonanza. You only get these benefits from unrefined, virgin coconut oil. Of course, here at St. Tropica we source only the highest quality Certified Organic Virgin Coconut Oil for our Beauty Coco and Coconut Oil Hair Mask. None of the icky processing, all of the goodness.
So, what does all of this mean for your nighttime skincare routine? Let's find out!
Benefits of Coconut Oil as Night Cream for Each Skin Type
Acne:
Yes, acne can be difficult to control. If you are dealing with regular breakouts, be sure to keep skin clean, use a clean pillowcase, work on minimizing stress, and cut sugar and dairy from your diet to see if that helps.
Another tip to banishing blemishes is to use coconut oil as a night cream. Its antibacterial properties help to quell the appearance of breakouts and the light, non-greasy moisture lends a balancing feel to the skin. Apply to freshly cleansed skin or over your acne treatment as part of your nighttime beauty routine.
Redness:
Whether you are battling rosacea or simple irritation, a layer of coconut oil before bed will help to soothe feelings of inflammation and make skin look even-toned. Coconut oil has a cooling effect, good for making upset skin types feel comfortable. Apply coconut oil to clean skin before going to bed. A simple rinse with warm water is an effective morning cleanse for sensitive skin types, then follow up with another dab of CO.
Anti-aging:
Possibly the best anti-aging night cream you can buy, coconut oil works to soften the appearance of lines and wrinkles, hydrate skin, and visibly plump and smooth. Be sure to apply each night over your favorite serum or facial oil for a power-packed nighttime skin routine.
All Types:
Even if your skin is well behaved, don't miss out on the big-time effects of using coconut oil as a night cream. The antioxidants will help to ward off the appearance of premature aging, keeping skin tone looking even and radiant. And the fatty acids leave skin feeling super soft and smooth.
Wake up to the skin of your dreams by using coconut oil as a night cream. No more skin nightmares, just a youthful, gorgeous looking complexion. Pick up a jar of Beauty Coco for your nighttime beauty routine today!