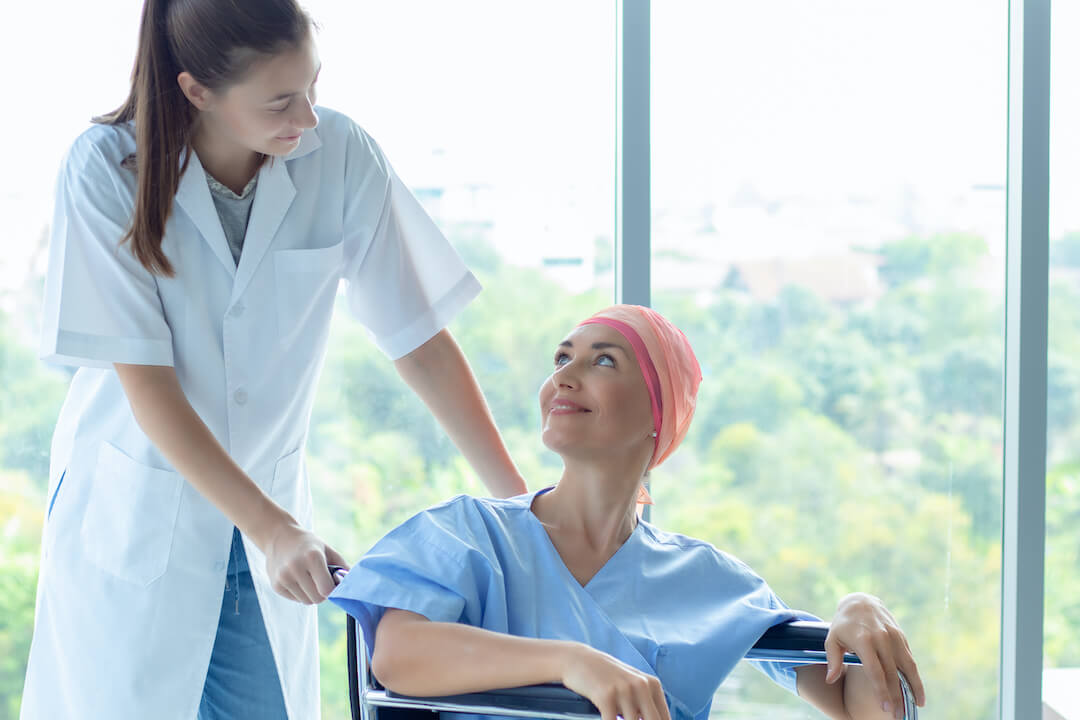 Let's Talk About Chemotherapy and Hair Loss
Hair loss due to chemotherapy treatment is often a very difficult and emotional process. While some chemotherapy treatments may not cause hair loss, many do and your doctor may be able to predict whether or not hair loss is to be expected with the type of chemotherapy that is a prescribed as part of your treatment plan.

How Quickly Can Hair Loss Begin After Chemotherapy?
Of those undergoing chemotherapy treatments, approximately 65% experience hair loss. While hair loss depends on the type of chemotherapy, often those that do experience hair loss find that their hair begins to fall or thin after approximately two weeks. Hair loss following chemotherapy is typically gradual, or may come out in clumps, and occurs over a number of days. In the days following chemotherapy treatment, your scalp may begin to feel sore or tender. This is a sign that hair fall may begin.
Since chemotherapy treatments do cause the scalp to become inflamed, you may find that your hair, especially if it is longer, feels quite sore when it moves. At this time, you may wish to cut your hair shorter to alleviate some of the discomfort. You also may find that hair loss occurs more quickly while showering and using shampoo or conditioner. This is not painful, but it can be alarming.
Some people choose to cut their hair prior to beginning treatment, though some also wait until they begin their chemotherapy treatments before they make any changes to their hair. This is entirely a personal preference, though some say that cutting their hair prior to treatment helps ease some of the traumatic experience of treatment induced hair loss.

Can Hair Loss Be Experienced After The First Chemotherapy Treatment Session?
Yes, with some chemotherapy treatments hair loss can be experienced following the first session. Hair loss or hair thinning may occur after two to four weeks following the first treatment, which may also coincide with the second treatment session, depending on the prescribed treatment plan.

Are There Ways To Reduce Hair Loss And Scalp Inflammation?
It's been reported that wearing a cooling cap during chemotherapy treatments may help prevent some hair loss. These cooling caps may also help alleviate some of the discomfort caused by the scalp inflammation that occurs from chemotherapy treatments.

Is Hair Loss Caused By Chemotherapy Permanent?
Hair loss from chemotherapy can feel traumatic and can be incredibly difficult for an individual to go through. Fortunately, hair loss caused by chemotherapy treatments is typically temporary and hair will begin to regrow 3-6 months following the end of chemotherapy treatment.

Are There Ways To Support Hair Regrowth Following Chemotherapy Treatment?
Once you have completed your chemotherapy treatment plan, there are a number of hair care practices you can implement to support your hair regrowth journey:


Hair and Scalp Treatments
Weekly or bi-weekly scalp and hair treatments are also a great way to support hair regrowth. The Beach Goddess Hot Oil Hair Mask is a highly effective hair mask and is made with proven hair superfoods to deeply penetrate the hairs' cuticle layer and inner cortex layer. This deeply nourishes that hair and hair follicle to support healthier hair growth and to stimulate new hair growth.
A Satin Pillowcase
A satin pillowcase is much more gentle on your scalp and hair than a cotton pillowcase is.
While you can begin using a silk pillowcase after you've completed your chemotherapy treatment, it is recommended during treatment as well as it is much more gentle on your scalp and also will feel much softer and comfortable if your scalp feels inflamed from the chemotherapy treatments.
Once your treatment has completed, you may also find that a silk pillowcase will help reduce hair damage and allow your hair to grow longer without tangles, knots, and damage caused by hair rubbing on cotton pillowcase fibers. 
Vitamins for Hair Growth
You may also find that taking a dedicated vitamin for hair growth can help stimulate faster hair regrowth.
The Tru Bloom Vitamins for Hair Growth have received thousands of reviews from customers around the globe, many of whom have undergone chemotherapy treatment and have found great success in regrowing their hair with the Tru Bloom Vitamins - but don't take our word for it, see incredible 5 star reviews, with before and after photos, here.
The Tru Bloom Hair Growth Vitamins are made with legendary hair superfoods to help support healthier hair growth. Ingredients such as Amla, Hibiscus, Bamboo Extract, and Acai Berry each contain an abundance of essential hair nutrients which stimulate faster and stronger hair growth from the inside-out.
Our Community is Here for You.
Having to face cancer and go through chemotherapy treatment is something we wish no one ever had to face. At ST. TROPICA, each and everyone of our team members has been touched by the far and painful reach of cancer and we know how difficult, and scary, it is. Our hope is that ST. TROPICA hair care and hair growth products may ease some of the difficulty experienced by those who have fought cancer by supporting their hair regrowth journey. We know it is just a small part their journey, but we hope our products can help support them along the way.
Find  support in our Hair Journey Collective. Members post frequently about their hair struggles, reviews, and more. We hope to see you there.