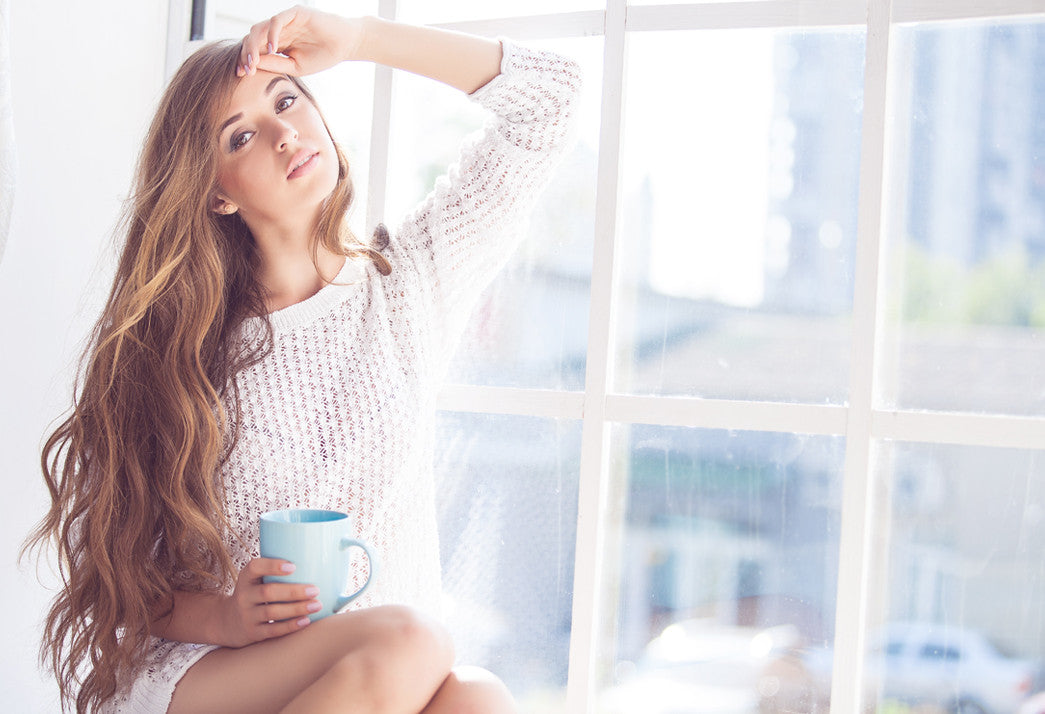 What's the Best Hair Mask to Undo Winter Damage?
Spring has sprung. Your skin is regaining a bit of its glow. Pretty colors are reappearing in your wardrobe. Your hair is…ok, let's talk about the hair.
Winter has a way of wreaking havoc on our locks. Indoor heating, static-inducing hats, cold wind and temps, and excessive use of heated styling tools tend to dry hair out. This leaves hair frizzy and prone to breakage. Not exactly what you had in mind for the season.
Want hair that looks great paired up with sundresses and sandals? Let's undo the damage winter has done and get your tresses ready to ring in spring.
Treating winter ravaged hair doesn't mean chopping off inches. A healthy hair treatment can do wonders in restoring shine, luster, and softness to sapped strands.
Want to know the most important thing to consider when choosing a hair mask?
The ingredients. As with skincare, organic ingredients are a healthier choice.
But wait!, you may say. The synthetic loaded product I'm using is making my hair feel a lot softer and shinier.
And it's true. Conventional hair treatments do make hair feel better. That is, until you wash your hair and all that softness goes down the drain. Know why? They are made with a heaping helping of synthetic silicones to make your hair feel soft and silky. But that's it. They don't heal or repair damage, they simply coat strands and mask the problem.
Another issue with silicone hair treatments? Your hair becomes dependent on them. These chemical ingredients create a seal on the outside of strands, preventing hair's ability to draw in moisture from the environment and healthy ingredients. Your hair then requires more of the silicone product to feel soft and moisturized. These chemical products actually exacerbate winter hair syndrome, rather than improve it.
To be sure you are steering clear of products that contain silicones, learn how to identify them on product labels. The most commonly found silicone ingredient in cosmetics is dimethicone, which is a potential eye, skin, and respiratory irritant, and may be harmful if absorbed through the skin. Other silicone ingredients to watch for are amodimethicone and cyclomethicone.
Rather than using a silicone bandage, let's talk actually restoring your hair to pre-winter status. Healthy, organic ingredients support and repair damaged hair, infusing strands and scalp with valuable moisture and nourishment.
What is the best ingredient for dry and damaged hair?
The best ingredient for treating a mangled mane? Coconut oil. And not just any coconut oil, but organic virgin coconut oil. This nutrient rich oil fully penetrates the hair shaft, rather than simply coating it, and repairs damage. Organic virgin coconut oil not only restores softness and luster to hair, but helps to prevent further protein and moisture loss.
Another natural hair smoothing ingredient is organic horsetail. This celeb secret contains natural silica, which repairs stressed hair tissue and strengthens the hair shaft, giving locks moisture and shine. Horsetail is also mildly astringent, so works to remove product build up and normalize the scalp. Say goodbye to silicone residue for good.
ST. TROPICA Beach Goddess Hot Oil Hair Mask contains both of these hair healing ingredients and more. You can be sure that our hair mask is made with 100% certified organic ingredients and completely free from harmful synthetics.
Not only will using our coconut oil hair mask have you on the way to healthier tresses, but you will see immediate improvement in the look and texture of your hair. Added bonus, that itchy scalp of winter is gone too.
Before you go running to the salon to chop off those split ends, or worse, head to the drugstore to stock up on silicone hair treatment, take advantage of a coconut oil hair mask. It's the fastest and healthiest way to undo winter hair damage.